After this, I must clean up my act.  And today's prize, I think people want it.  Bad.  It's…well. I kind of want it myself.  But I can't keep it.  This was the terms of the agreement.  I must give it away.  It's the goods I swiped from Larissa Ione.
If you'd like your chance at winning, check out The Book Binge.
Also, please make sure you read the rules for entering…a few people have attempted to enter as 'hosting bloggers' who…well…weren't.  Only six blogs attempted to hide me on my life of crime, and only those six bloggers can claim the 'hosting blogger' benefit. Anybody else who does it – those entries are deleted, as specified in the contest rules.
Now… onto the next ramble…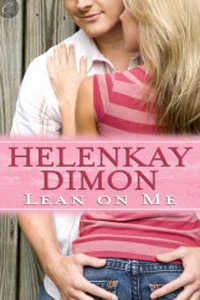 I love HelenKay Dimon. I think she's just awesome.  And because I love her so, I'm making her book a Friday 56 sort of contest.
Only…with pictures!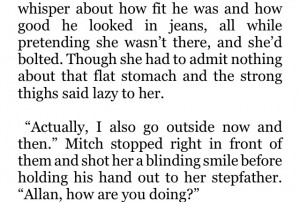 What's the Friday 56, you say?
Oh, here we go…
About the Friday 56
Grab the book nearest you. Right now
Turn to page 56.
Find the fifth sentence. (If you do it on your blog, you're welcome to use a picture instead like I did)
Post that sentence (plus one or two others if you like) along with these instructions on your blog or (if you do not have your own blog) in the comments section of this blog.
Post a link along with your post back to this blog.
Don't dig for your favorite book, the coolest, the most intellectual. Use the CLOSEST.
Yes, LEAN ON ME was totally the closest because it was on my phone.  I'd just bought it.
And now I'm going to buy another copy.  It's ebook only so if you're not an ebook reader, you can either give it a shot for this…or…um, well not enter.  No other prize is offered.
Want it?
Cool!
Here's how to enter…just tell me whatever book is lying close at hand.  You can do the 56, or not. Up to you.  If you don't have a book handy, either lying close or on your gadget, tell me what book you think is lying near your preferred reading place.  That works, too.
Remember, all contests here are subject to the rules of my website… entering any contest means you're of the age of majority, you understand that I'll post the winner's name (probably by 11/10) to my site and you must check back to see if you've won…hint…sign up to have the blog emailed to you… it's that little feedburner thing…or you can go
here
).  If you don't claim the prize within two weeks, it's forfeited. This is just a quick run-down.  For the rest of rules, please
read them
.  Entering means you've 
read
them and 
agreed
to them.
Okay… fire away!