Okay, some news on signings… The one in St. Louis requires tickets.  If you're planning on attending, you might want to buy the ticket ASAP.  It's on 12/1, follow the link (info) for details.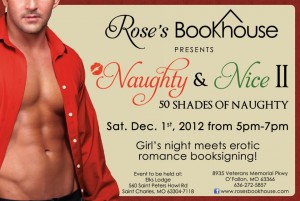 Authors attending:
Yours truly… (that would be me)
#1 NYT Bestselling Author:
SYLVIA DAY
NYT Bestselling Authors:
SHAYLA BLACK
JACI BURTON
BETH KERY/BETHANY KANE
Bestselling Author:
SHILOH WALKER
Local Authors:
JENNIFER JAKES
ELIZA LLOYD
CASSANDRA GOLD
You also get wine, appetizers, etc and there are door prizes.  I hope I get wine, too.  🙂
This is December 1.
~*~
11.3 at 2pm. (Info)
AND… in Lexington…my signing for the release of STOLEN...
Signing at Joseph-Beth, discussion with signing to follow.  There will also be copies of BLADE SONG.
Joseph-Beth Booksellers
161 Lexington Green Cir # B
Lexington, KY 40503
(859) 273-2911