Walmart + Saturday + School Supplies = Hell
I kid you not.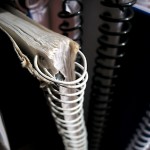 Two hours.  And we're still not done because they didn't have the simplest things I needed. So we have to make another trip out tomorrow.  Just shoot me now.  Argh.
I plan on finishing up THE PROTECTED this next week. One good week and it's done.  Then I can focus on the next RS series.
A snippet from THE PROTECTED…
There was a soft whisper of sound and he turned, saw Vaughnne standing in the doorway, her friend's arm slung over her shoulder.
Vaughnne stared at him.
He returned that gaze without blinking, letting her see every ugly truth on his face.
"If you are going to ask if it is true," he said, schooling his voice into a bored, flat tone.  "Don't bother, Vaughnne."
"I won't.  I can already tell it is.  I just want to know why."
Release date not known.  Probably sometime in 2013.