Now available…
"What in the hell do you know about love, you damned iceberg?"
She never even saw him move. One moment, he was three feet away. And then he was only inches away, his long body, so lean and warm, caging hers in against something cool and metal—a car? Truck? She didn't know, didn't care. One hand rested by her shoulder. The other cupped her chin. "More than you would think, sweet. Far more than you would think." Then his mouth was on hers.
An iceberg.
She thought he was an iceberg.
Little fool.
Her mouth was still under his, for the briefest moment. He knew it wouldn't last long, and he intended to make the most of it. She wanted to wither away and die, did she?
Perhaps she needed to see just how much life she still had inside her.
Oh, but she was sweet…he'd known she would be. Her mouth was soft, even though she was still frozen with shock. Soft, and she tasted like soft, warm woman, cherries and Coke… She lived on Cherry Coke, it seemed. He could live on the taste of it on her, he supposed.
Stroking his tongue along the curve of her lower lip, he teased her lips apart, delving inside the second he had an opportunity. He didn't believe in wasting those.
Her fingers curled into the front of his coat and over the roaring of blood in his ears, he heard the soft, broken sound of her breath…and even sweeter, the erratic beat of her heart. Her body wilted against his—he felt the push of her breasts, the softness of her belly, the long lines of the body she treated so carelessly. There was wanting in her body, needing…she wanted, she needed. Him…she wanted him.
For that moment—he felt it.
And then he felt her fist.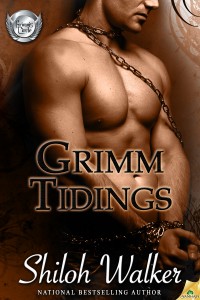 Read another excerpt…