(warning…sarcasm & weirdness ahead)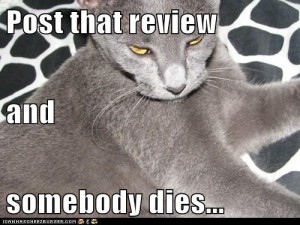 Because…um…well… I said so… no, wait! That's not why…this is why…
authors read them

you might want a career in publishing some day and you'll be BLACKBALLED

librarians say so

a fluffy pink unicorn dies every time you do it

it's not nice

kittens don't like it
Ah. Screw it.
Here's the thing. And it's been said 10000000000 times.
Reviews. Are. An. Opinion.
Authors don't have to like it.  And guess what…readers/reviewers don't expect us to like the negative reviews.
But damn it. They are entitled to their opinion.  And when you say…
YOU SHOULDN'T POST THAT.  
DON'T BE SO NEGATIVE…IT'S CAN SCREW UP YOUR CAREER IN WRITING BEFORE YOU HAVE ONE
AUTHORS READ THOSE BLOGS (WON'T SOMEBODY PLEASE THINK OF THE CHILDREN…) okay…i added that on my own, but those whining about the negative reviews…um. Well…
Or anything variation of the above…you know how this translates?
You challenge their right to an opinion.  Plain and simple.  Perhaps that's not how you intended to come off.
Yes, yes, I realize, you slaved and labored and worked so hard on that book.
Hey, check out the header up there… I read.  I write.  Yes, I write.  I'm a writer.   Published since 2003 ( I think).  I don't know how many published works, because I stopped counting them. But I'm a writer. Full stop. End of.
But being published doesn't entitle you to special treatment.
No.  Wait.  Maybe it does.  It means you get paid for your books.  If you go to a store and they have your books, you can ask to sign them, and that's kinda cool.  And when people ask what you do for a living, you get to say… "I write."
That doesn't translate to…
"I get to deny other people their right to an opinion."

"I get to tell people how or where they should voice their opinions."

"I get to determine which opinions are valid and/or acceptable."
Think that's a little over the top?  Maybe it is.  But when you rant about a negative review, that's the message you're sending.
That negative review isn't going to kill your career. Will it stop a few people from buying your book? Possibly…because that book may not be right for them.
And FYI, one of the rants lately was that negative reviews discouraged people from reading.  That comment is so fricking ludicrous I can't even began to voice how many ways that is wrong.
But here's a clue…and I'm not using these authors to mock or poke or malign.  I haven't read these books, but I'm familiar with the authors and their works…'kay?
Laurell K Hamilton… on Amazon, Bullet-300+ reviews, and 147 are 1 star.  And you want me to believe people are still not buying/reading?  They are buying and reading her like crazy.
Stephanie Meyer on Amazon 5000+ And day-yum…guys I need more reviews!… anyway.  600 something negative reviews for Twilight.  And Stephanie Meyer…. still getting bought like mad.
Yes, these are big names.  I realize that.  But readers aren't discouraged by 'bad' reviews.
And guess what…that negative review may be the very thing that entices another reader to buy your book.
Example…over at Dear Author… there are several different reviewers.
I generally tend to like books that reviewer Janet likes… if she likes a book, chances are I'm going to, and I've often found myself disliking the same books she's disliked.
So if she didn't care for a book I'm on the fence about? Yeah, I might not buy.
However… Jane's negative reviews? I very often have enjoyed books she hasn't. I'm hit or miss on the books she's liked so a positive review from her isn't necessarily going to be the push I need to get me to buy. But a negative one very often is the push I need if I'm on the fence.  I really don't think I'm the only person who does things like this.
And it's a book I'm really, really interested in? Reviews don't matter.  I'm probably going to take a chance on it.  Unless you're one of these authors who are having fits about people having opinions your books, because you're an author I'm never going to try.  I'm full of opinions and nobody gets to dictate how I get to voice them, where, when…etc, etc, etc.
I don't want to come off as being harsh.  But seriously…some of these writers who are having meltdowns lately over negative/critical reviews?
I just have these thoughts in mind.
You need to get a couple of good, solid friends to vent to.  OFFLINE

You need to get your big girl pants/big boy pants…and put them on….people are going to dislike your work.  That's all there is to it.

Accept it. Be prepared.  Your life will be easier for it, I promise you.

If you don't think all of this makes sense… look at all the blow-ups that happen when an author rants over a review disliking a book.  Think them through… how many of them ended well for the author?  I can't think of one.  It reflects badly.
And it can cost you readers.  The internet… she doesn't forget.
ETA:  Please… think of the unicorns: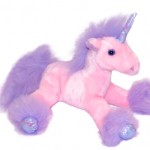 Author Author Cat pic made @ the

LOL Cat builder