Winner to be posted shortly (upcoming week.)  At this time, the giveaways are now closed for comments.  thanks and be sure to check back to see if you were the winner!
So between now and the day THE DEPARTED releases, I'll be collecting names.  If you see the words… DEPARTED and GIVEAWAY in the blog topic, then you can enter.  The prize?  A massive bag of books, swag and other sundry goodies.
The starting stack is…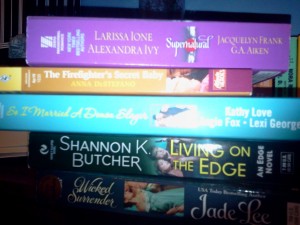 While Taylor was impatient in the extreme and itching to get out there, he knew if that ghost didn't find any sort of peace, she'd linger with Dez.
And that would torment her.
He couldn't do that.
Not to her.
He tried to force up some semblance of the cold, hard shield he'd perfected so long ago—he didn't have any sort of special interest in Dez Lincoln. He wouldn't wish the unrest of an agitated ghost on any of his people; that was all. He needed them all at their best, all the time.
But even as he told himself that little line, he knew it for what it was.
Nothing but shit.
He most certainly had a special interest in Dez Lincoln. And he had from the very beginning.
Not that it mattered, though.
She was a member of his unit and that made her off-limits.
And even if that wasn't an issue, Taylor Jones didn't do relationships.
Period.
Read more…
Want to enter the giveaway?  Just leave a comment below and tell me one book you read over and over.
All names entered will go into the pot.  One winner will be drawn at the end of the contest and posted here.  Make sure you read my disclaimer-the winner is responsible for checking back to see if they've won- (hint…you can always set up a google seach for your name/whatever handle you see use.  Good way to keep track of contests).
Entering means you agree to the rules and that you've read the disclaimer.
More prizes will be randomly added with each giveaway post. (Or that's the plan…).  Entries must be made at my blog, not via facebook, twitter, GR, etc)