Winner to be posted shortly (upcoming week.)  At this time, the giveaways are now closed for comments.  thanks and be sure to check back to see if you were the winner!
Every year, when I go to book/writer events, I pick up goodies.  I usually do swag giveaways, but I didn't do many this year, so I just decided I'd just do a big one at the end of the year, but when I saw how Lynn Viehl/PBW was doing her Let It Snow giveaway, I thought it would be fun to stagger it out a little…thus the part one.  Part two.  I dunno how many parts I'll have.  I lack organizational skills.
But I have at least a few more parts…I picked up a few things just for the giveaway and I still have books I collected, too.  Some are even signed. 🙂
Here is part two…
from The Departed…
He hadn't even seen her, and he'd known it was her.
Felt it, somewhere deep inside.
Guiding her away from the crush of bodies, he said, "You can explain what you're doing here later. But for now, tell me why you think there's a kid in there when all my intel is saying otherwise."
Dez flicked a look past his shoulder. "Something woke me up and I just knew I needed to be somewhere. Here. So I got up, got dressed, and headed out. Ended up here—I didn't even know you had a team here, by the way."
For a period of about five heartbeats, all thought stopped.Taylorcould think of nothing else but those words—got dressed. Meaning . . . what? Had she been sleeping in pajamas? Something slinky and silky? Something sensible, practical? Or had she been naked, that sleek, warm brown body bare?
Blood drained out of his head and he clenched his jaw, jerked his attention away from her, and stared at the house until he could remember what he was doing, why he was here.
What he was about. He didn't have time to be thinking about Desiree Lincoln and her sleeping attire—or lack of. He had a job to do.
A mission. The mission. It was all that mattered. All that could matter.
Read More…
Adding this into the giveaway stack…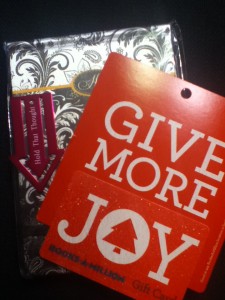 A notebook, a bookmark, and a gift card to Books A Million. I thought the bookmark was cute and if I actually used them very well, I would have bought one.  I've only got one I used fairly regularly and that's cuz it's pretty.  And no, you can't have it.  But you can have this one. If you win.
Want to enter?  Today… tell me this.. Do you dog-ear your books or use a bookmark.  I'm a shameless dog-ear-ing person.  Unless I'm borrowing and then I'll be more careful.
All names entered will go into the pot.  One winner will be drawn at the end of the contest and posted here.  Make sure you read my disclaimer-the winner is responsible for checking back to see if they've won- (hint…you can always set up a google seach for your name/whatever handle you see use.  Good way to keep track of contests).
Entering means you agree to the rules and that you've read the disclaimer.
More prizes will be randomly added with each giveaway post. (Or that's the plan…).  Entries must be made at my blog, not via facebook, twitter, GR, etc)