Winner to be posted shortly (upcoming week.)  At this time, the giveaways are now closed for comments.  thanks and be sure to check back to see if you were the winner!
Just so ya know, today will be a little different.
Next Round! (FYI, the winner must check back to claim the prize-if you think you might forget, try setting up a google alert. It's easy, I promise…)
So far, this is the prize stash.  It's all for one winner…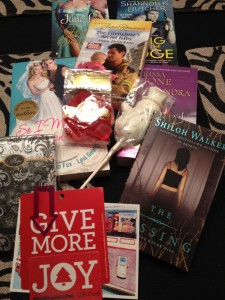 From The Departed
They were there. Some of the departed . . . not all of them rested, not all of them called for help. Some of them just lingered, their cold, dry touch like a skeletal hand on the nape of her neck. She could feel their presence and now that she'd allowed herself to think about them, to focus, her mind reached out and tried to lock on one of those whispers. Tried to grasp something real . . . a voice, something, somebody she could help.
But their voices, they were so indistinct, like listening to dry leaves skittering down a street. There were no words, hardly any feeling left to connect to those disconnected souls.
She jumped as Taylor curled his hand over her nape, his fingers digging lightly into her skin. "Stop it," he murmured, leaning in and speaking almost directly into her skin.
"Stop what?" she asked sourly. She would have glared at him, but the firm hold he had on her skin kept her from doing that, and she was reluctant to break that contact. Just like always, his touch made everything else fade away.
"You know what. You're not shielding. I can see it. Shield up or you'll be a mess before I even get you to her room." His voice lowered when she tensed and tried to pull away.
"You don't get to boss me around anymore, Jones."
She tried once more to pull away, but this time he herded her into a narrow dip in the wall. A quick glance showed that it led to the chapel. She glared up at him. To her surprise, he was glaring back, his pale blue eyes glittering at her, and his normally emotionless face was anything but. "I'm not trying to boss you around, damn it. You're walking around looking like you've got death dancing on your shoulders and you're not doing shit to stop it. Should I just ignore it?"
"What does it matter to you?" She shouldn't be looking at him. She told herself that, told herself to look away, to look anywhere but at him. She couldn't, though. She couldn't look away from his eyes. Swallowing, she rested her head against the wall and repeated, "What does it matter to you?"
A heavy breath rushed out of him, his shoulders rising and falling. His blue eyes, so fiery hot and so unlike the cool, icy professionalism she was used to seeing, bored into hers. "Just shield up, damn it." Then he shoved off the wall and stalked away.
Immediately, Dez sagged a few inches and covered her face with her hands. Damn it. What in the hell . . . Damn it. Her knees were shaking. Her belly felt all tight and hot and jittery, and damned if she knew why.
You damn well do know—
No. She wasn't thinking about that—
She took a deep breath and lowered her hands. Then she looked up and gasped when she realized Taylor had returned, silently. One hand came, curled over the back of her neck. "This is why it matters, damn it." He hauled her against him and as his mouth crushed against hers, her brain clicked off, shut down . . .
Read More…
Now.  About today's giveaway.  I'm going to give away $1 for every comment up to $50…to a charity.  You all choose from the three below and whichever has the highest picks, I'll donate.
World Vision (Christian charity, I generally do one of their 'animal' gifts which provides something like ducks or chickens to a family~provides eggs for food, money, etc)
Kiva (micro-loans…a cool concept, too hard to break down simply.  You can check out their site, though)
Young Survival Coalition (Young survivors of breast cancer)
All of these charities have a 4 star rating at Charity Navigator, and I think that's the highest they rank.  So they are all solid charities who use their donations wisely.
Okay… so that's it.  Today's giveaway is a gift. Just tell me who you want to see getting it.
ETA:  FYI, your comment today is also your entry. 🙂  You can still go back and enter the previous days, too.  One entry per day!  Just look for any post that days The Departed… Giveaway. 🙂
All names entered will go into the pot.  One winner will be drawn at the end of the contest and posted here.  Make sure you read my disclaimer-the winner is responsible for checking back to see if they've won- (hint…you can always set up a google seach for your name/whatever handle you see use.  Good way to keep track of contests).
Entering means you agree to the rules and that you've read the disclaimer.
More prizes will be randomly added with each giveaway post. (Or that's the plan…).  Entries must be made at my blog, not via facebook, twitter, GR, etc)