Winner to be posted shortly (upcoming week.)  At this time, the giveaways are now closed for comments.  thanks and be sure to check back to see if you were the winner!
Next Round! (FYI, the winner must check back to claim the prize-if you think you might forget, try setting up a google alert.  It's easy, I promise…)
From The Departed…
I quit—
Taylorjerked his head back as she said that. Then he shook his head. She couldn't. He knew Dez, knew how she needed . . . fuck. Yes, he knew how she needed what she did. It wasn't a job for her—it was a need.
"You can't quit," he said quietly. "You and I both know how much you need your work—we know what it does to you when you don't work."
Dez's mouth twisted in a bitter, ugly smile. "Obviously we don't or you wouldn't be pushing me out for three months because you can't deal."
Alarm screamed in his head as she reached down, pulled out her ID, her weapon. Fuck—
"Desiree, be reasonable."
Lashes swooped low over her eyes and she murmured, "That's exactly what I'm doing. I'm not taking three months—double the time the doctor said I needed—and hell, I can talk to ghosts just fine without hurting my neck. I don't even need six weeks. I'll go insane if I spend three months away from what I need to do. Since you won't let me do it here, I'll do it on my own."
She slammed her shield, her ID, her weapon on his desk.
He caught her wrist. "Don't do this, damn it." She couldn't leave . . . even as he thought maybe it was for the best—for him. Yeah, it might be better for him, but it would be hell for her. She needed this. Shit. What had he done? She couldn't leave.
"Give me a reason why I shouldn't." Her eyes, dark and soft, bore into his, challenging.
Something hovered on the tip of his tongue. But instead of exploring that, he gritted out, "Because you'll regret walking away from your job."
Dez shook her head. "I didn't walk. You shut me out." Her eyes lingered on his face, and then she reached up, touched his cheek.
His heart slammed against his ribs and he had to fight the urge not to nuzzle that hand, not to grab her, beg her not to leave. Fuck—not seeing her? Then, even that paled.
Away from here, how would she get what she needed? How would she get enough? The voices, her ghosts, they'd drive her mad.
As she turned away from him and started to the door, he came out from behind the desk. "You can't walk away from this team, Dez. I won't allow it," he said, forcing his voice to be flat and cold—no emotion, damn it, because letting something other than his head speak was what had caused this. No emotion—nothing but logic. Nothing.
Dez paused at the door and looked back at him. She lifted a brow at him. "You won't allow it," she murmured, cocking her head. Then she sighed and opened the door. "Sugar, you just don't seem to get the picture here. You don't have a choice."
Their eyes met, held, steely blue on darkest brown. She was the one to look away first.
"Good-bye."
Read More…
Today, I'm throwing in a signed copy of: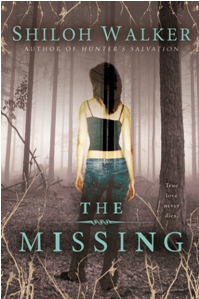 This was the previous book, although these books work very well on their own. If you've read this one?  Regift it!  I beg you!  🙂
To enter, tell me a character you hated…but came to…well, not love, but like.  Because Taylor wasn't a character I liked. But he grew on me.
The contest runs through the first week of January, when The Departed releases…
All names entered will go into the pot.  One winner will be drawn at the end of the contest and posted here.  Make sure you read my disclaimer-the winner is responsible for checking back to see if they've won- (hint…you can always set up a google seach for your name/whatever handle you see use.  Good way to keep track of contests).
Entering means you agree to the rules & that you've read the disclaimer.
More prizes will be randomly added with each giveaway post. (Or that's the plan…).  Entries must be made at my blog, not via facebook, twitter, GR, etc)