I've got a few galleys of IF YOU SEE HER...and they need a home.
Now, a couple of these are already spoken for.  But others still need a home.  They'd like a home with somebody who has read/reviewed IF YOU HEAR HER.
I'm not trying to be unfair here, I'm really not.  But… I only received six galleys.  (Those who don't blog, I'm keeping one for a reader giveaway closer to release time.)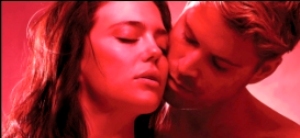 So.  Six galleys.  Yep.  Count 'em.  Six.  And this isn't a book that's going to work quite so well if you haven't read the first one.  I also have this little thing where sometimes, a few people will request a galley for review purposes, and then…well, they don't review it.
Now this isn't me sending a galley to a review blog…I know not all of those get reviewed.  This is me, posting a call for reviews, like this…to my blog, people request to review it and in exchange for receiving the ARC/galley, I ask the blogger to post a review.
When I only get a few of them and I have to spend several days trying to figure out who to send them to, and the people who get them don't review them?  Well, it makes it that much harder.
So…for this series, since it's so tightly entwined and since I received so few galleys, I'm going to have to be a little more persnickety.  I'm not going to make anybody do the hula or stand on their heads to get the ARC and you don't have to post the review to X site, Y site and Z site, and as always, all I do ask is for your honest opinion, posted to your blog.
However, in order to request one of these ARCs, you do need to have read the first book in the series and having a review posted to your blog gets you an edge.  Also, just so you know…I do have the galleys in for book 3 and I'll likely to do the same for IF YOU KNOW HER.  Meaning if you've read books 1 & 2, you'll be that much more likely to get in on reviewing book 3.
If you're interested in reviewing IF YOU SEE HER, please email Nicole with the name of your blog and other pertinent info … her email is grimmhunter.shilohwalker AT gmail.com.  We'll keep this open for a week or so.