She couldn't stay in the kitchen brooding about why Ezra King had never called her back.
What in the hell did it matter?
They'd had one date.
One very wonderful kiss.
It didn't add up to much.
So what if she'd dreamed about him quite a few times since then?
In the end, what were a few dreams? A few really, really, hot, sexy, poignant dreams?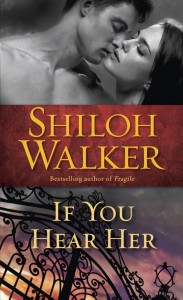 10.25.2011
A CRY IN THE WOODS
The scream Lena Riddle hears in the woods behind her house is enough to curdle her blood—she has no doubt that a woman is in real danger. Unfortunately, with no physical evidence, the local law officers in small-town Ash, Kentucky, dismiss her claim. But Lena knows what she heard—and it leaves her filled with fear and frustration.
Ezra King is on leave from the state police, but he can't escape the guilty memories that haunt his dreams. When he sees Lena, he is immediately drawn to her. He aches to touch her—to be touched by her—but is he too burdened by his tragic past to get close?
When Ezra hears her story of an unknown woman's screams, his instincts tell him that Lena's life is also at risk—and his desire to protect her is as fierce as his need to possess her.  Read more…
Amazon | BN | BAMM | Indiebound | Book Depository
 don't forget to check out the Thrills and Chills giveaway… info in the sidebar…(this isn't a contest post…)