It was an edgy, burning need, one that crawled around under his skin and tore at him, ate at him.  It was a hunger, a need, an ache and one he had to listen to, or it would drive him insane.  But he also knew listening to it was a bad, bad idea.
Bad idea, very bad idea, he told himself.  Friends, remember?  Just friends.
"Yeah, and as a friend, I can go out there and see how she is doing, right?  I mean, after the weekend she had, what could it hurt?" he muttered to himself.
Trying to talking himself out of that idea, trying to cool the need, the fire in his gut, he decided to stop by the store.   His last grocery store run, he'd been distracted—and without a list.  Today, he was still distracted, and still without a list, but one thing he'd realized he needed was deodorant so he made himself stop before leaving town.
He made it halfway through the store, congratulated himself for not thinking about Lena. But as he stopped in the microscopic health and beauty section—crap, why did they put men's deodorant in the beauty section—he found himself in front of the display of condoms.
Shit. Shit. Shit. Shit.
He did not need condoms for a friendly relationship.
Once more, his focus was right back on her, and this time it had nothing to do with the strange mystery of the screams and everything to do with the shape of her mouth, the round curve of her ass, and the weird way he found his heart skipping when she stood close.  The way he smiled when she laughed, and the way his chest ached when he saw that sad look on her face.
It was almost like the way he felt when he'd first started dating Stacy Traynor back in high school—first major crush—that hot, fiery burn of young love.
But the deal with Lena?  It was worse.  Way worse.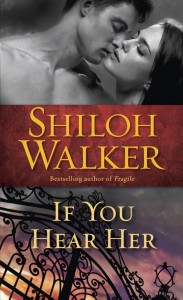 A CRY IN THE WOODS
The scream Lena Riddle hears in the woods behind her house is enough to curdle her blood—she has no doubt that a woman is in real danger. Unfortunately, with no physical evidence, the local law officers in small-town Ash, Kentucky, dismiss her claim. But Lena knows what she heard—and it leaves her filled with fear and frustration.
Ezra King is on leave from the state police, but he can't escape the guilty memories that haunt his dreams. When he sees Lena, he is immediately drawn to her. He aches to touch her—to be touched by her—but is he too burdened by his tragic past to get close?
When Ezra hears her story of an unknown woman's screams, his instincts tell him that Lena's life is also at risk—and his desire to protect her is as fierce as his need to possess her.  Read more…
Amazon | BN | BAMM | Indiebound | Book Depository