This fall, the rights on the earlier Hunter books, Hunters Declan & Tori, Eli & Sarel, Jonathan & Lori, Byron & Kit, etc begin reverting back to me.
UTA: 9.24.2011…Hunters Declan and Tori is now available   Looking for info on future Hunter books?  See this
post
…
ARe | Smashwords | Nook | Kindle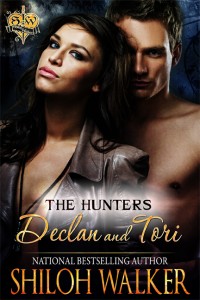 I plan on releasing them all, probably monthly or every other month, depending on time, etc. through the various digital platforms out there.
I'm going through and doing quick read throughs on them, but I don't plan on changing these stories.  No new content will be added, so if you've read the original versions, the only thing you'd get with these versions is a new cover.
But if you haven't read them, I do plan on selling them a fairly low price.  More info to be posted as I have it.  Right now, I don't know when I'll be uploading the first one. I'll post that info as I have it as well.
And because a couple of people already asked… O.o  Nooooo… nothing happened and I didn't pull these books.  The rights have just reverted back to me.   At this time, these are the only books I plan on doing this with.
Also, there is still stock at EC and at various print/online stores for the print books, but that is limited.  Once those are gone, they may well stay that way.  I dunno if I'm going to attempt to release these in print or not.  So if you want them in print, you might want to get them now.