3/6/2011

closing the call for review now…thank you!

Those who were selected have been emailed!
Closest…. the ARCs.
Damn Malachi for saving her. Damn her own hide for collapsing and giving him the opportunity to get her to Excelsior. Just being at the school had reminded her. She knew who she was. She knew what she was meant to do with her life.
About the Friday 56
Grab the book nearest you. Right now
Turn to page 56.
Find the fifth sentence.
Post that sentence (plus one or two others if you like) along with these instructions on your blog or (if you do not have your own blog) in the comments section of this blog. *please note… this isn't a contest.*
Post a link along with your post back to this blog.
Don't dig for your favorite book, the coolest, the most intellectual. Use the CLOSEST
FYI-this is not a contest.  I've got ARCs and ARCs are…well, kinda meant for review purposes. I will try to save one for a reader giveaway later, but that's not what we've got here.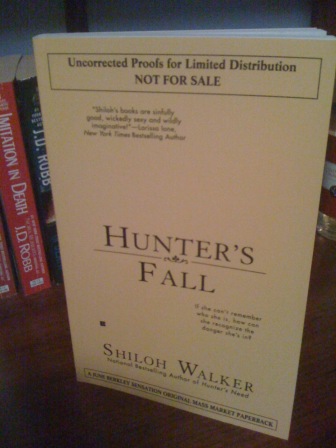 UNKNOWN PAST

Something strange is happening to Nessa. Ever since she survived a near-death experience she's not exactly who she used to be—and enjoying every minute of it. Then she's called upon to go to battle against darkness. If only she could remember why.

UNEXPECTED LOVER

Dominic is having his own problems with memory, sanity, and hallucinations. Sent to Excelsior, the covert Hunter training facility, he senses a female presence that seems so hauntingly familiar. That's because he and Nessa share a forgotten past.

UNSEEN EVIL

As Nessa and Dominic regain their memories, their strange mission against evil becomes clearer. And all the more dangerous because whether they should trust each other is the still the greatest unknown of all.
So…if you  have a blog and would like to review it, leave a comment below with a link to your blog.  If you're active on places like twitter and goodreads, feel free to include that info, too, because that kind of helps spread the word… :->
Please note-it must be a blog (Facebook/myspace aren't blogs) and an active one, as in one that wasn't started today and one that gets updated on a fairly regular basis.
A few random things
Yes, this is part of a series, but I try to write these books to stand alone.
If you ask to receive an ARC, please note that I do ask for a review in return-good or bad, just an honest review, to be posted either the last week of May or the the first week of June.  I also pay attention when I do these things and if you've received an ARC in the past (or if you receive this one) and the review isn't posted by the agreed time, you're less likely to receive an ARC when I do calls like this.
I will ship internationally-if you live outside of the US and have a busy blog?  Go for it.
I have a limited number of these-several were already promised for charitable causes, so only a select number of bloggers will get ARCs.
Again, remember, this isn't a contest.   I'll do a lot of those and I'll try to do one for an ARC if I have any left later on.  But pretty please, no yelling at me if you don't blog or if you don't get an ARC.  The  purpose of these, as I've said, is kind of for promotional stuff and promotional stuff leads to word of mouth and word of mouth leads to…well… sales, right?  Good sales make the publisher happy which means they say YES! when I ask if I can write more Hunter books.  That's good, right?  If I write more…you get more.  Yes?
If you don't blog and still want to try to get an ARC, remember, there's the fundraiser for Marrion P'Undongo and you've got pretty good odds for the giveaway I'm doing there.
A note…for those who have questions about getting on my 'reviewing' list, there isn't one.  Other questions for ARCs, please see my FAQ page!