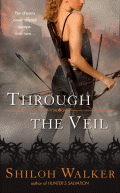 I'm working on Veil # 3.   A few days ago, on twitter, I mentioned I'd forgotten what color eyes Morne (the hero of book 3) had.  Then I mentioned something about checking my character worksheet.
Which immediately led to…character worksheets?  A dozen variations of…what's that, where did you find one, etc, etc, etc…
I use a couple of different things and you can make up whatever will suit you.
If you need want something really comprehensive that will hit character details, background and all the way through cover art ideas, plotting, etc, try Lynn Viehl's The Novel Notebook.
If you've never checked out her writing tools, you should…she offers some helpful stuff-even the disorganized mess that I am finds helpful stuff there.  *she's scary organized*
If you don't want anything that comprehensive, just make up your own, what you need to hit and then save the file, print it out and fill it in as you need it.
Something like:
Book:
Series:
Character:
Sex:
Race:
Eye color:
Hair color/style/length:
Job:
Special skills/abilities:
Marriages?
Children?
Siblings:
Notes regarding character/story:
If I did one like this for Morne, it would be…WARNING, IF YOU HAVEN'T READ BOOK 1 & 2, THROUGH THE VEIL and VEIL OF SHADOWS, SOME SPOILERS AHEAD
Book: Veil #3
Series: Veil
Character: Morne Ramire
Sex: Male
Race: Anqarian Warlord *informal-never fully achieved rank*
Eye color: midnight blue
Hair color/style/length: shoulder length, platinum blond
Job: lieutenant in rebel army, healer
Special skills/abilities: healer, skilled soldier, stronger & faster than the humans of Ishtan
Marriages? N/A
Children? N/A
Siblings: one brother, lost in the end of book 1
Notes regarding character/story:
not sharing these because that's TELLING!  😉