Be warned…today and tomorrow, I talk about awesome books. 🙂
Of course, it's a fricking awesome series.  I love the Archangel books.  They are amazing.  This one is due out tomorrow… I read it a couple months ago and it's so amazing.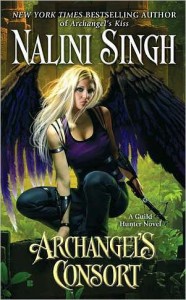 An ancient and malevolent female immortal is rising in Manhattan to reclaim her son, the archangel Raphael. Only one thing stands in her way: Elena Deveraux, a vampire-hunter-and Raphael's lover.
Now that blurb doesn't even touch on this book. But whoa… it's good. If you haven't read the first of the Archangel books? Like urban fantasy/romance and action/awesome stuff? You must read. Start with Angel's Blood. Read more about them at her site here.