contest is now closed…winner to be posted next week

We have a guest blogger today… the awesome and lovely Zoe Archer…(and her book rocks, BTW)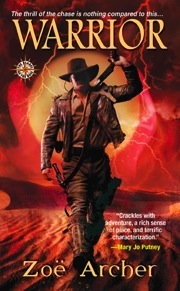 Looking around my office, you would find the following:
Desk
Computer
Filing cabinet
My husband (we're both writers and share the office)
Overstuffed bookcases
Weird gray cat
Printer
Elliptical trainer
Fairly ordinary stuff, though I would argue convincingly that my husband is most assuredly not ordinary, and my cat is an uncanny creature from an alternate dimension. Largely, though, it's a perfectly normal home office. One that hardly betrays my secret power.
What's my secret power? I can travel around the world in ten seconds.
Not literally, of course. I don't have the gift of teleportation or astral projection, and I'm pretty sure I can't fly. But, being a writer with access not only to my own substantial research library as well as that magical world known as the Internet, I can sit at my desk and travel to the farthest corner of Asia. Or A tiny island in the South Pacific. Or realms of magic yet uncharted by mortals.
I never confuse what I write with so-called "real life," yet for me, part of the appeal of writing is the ability to travel to far-away places that I might never actually visit. There's a certain amount of wish fulfillment in writing, and while I never dream of being a bluestocking in Regency London, I do dream about crisscrossing the globe. There are places I know I will eventually travel to, but there are places that are less likely. That's where writing comes into play.
When it came time for me to write my new BLADES OF THE ROSE romance series, I knew without a doubt I wanted to set it all over the world. And so I did: Mongolia, the Cyclades Islands in Greece, the Canadian Rockies. Admittedly, I didn't know much about any of these places when I first started outlining the books, but libraries and the Internet are wonderful things. I found myself transported to the harsh beauty of the Gobi Desert, or sun-baked islands in the Aegean, or the humbling and beautiful mountains of Canada.
The biggest surprise in my armchair travels was Mongolia. I watched films, looked at photographs and read books, and the more I learned, the more I wanted to go there. Not only is it a beautiful country, but there are still many Mongolians who lead traditional nomadic lives, herding livestock and living in gers (the time-honored tent also known as a yurt). If one is polite and respectful, some of the nomads even permit visitors to stay with them and partake of Mongolian life and hospitality. Now I've added visiting Mongolia to my list of must-see places.
Traveling is wonderful, but there is also something wonderful about curling up with a book in a comfy chair at home, and reading about distant lands. Our minds are taken far away, and then we can get up, kiss the husband, grab a snack, pet the cat, and then transport ourselves away again. If I can provide those moments of exploration and discovery for my readers, then I know I've done my job properly.
Now, I'm off to voyage to 18th century London. Oh, did I forget to mention that I'm a time-traveler, too?
If you could travel anywhere, where would you go? Is there some place you've always wanted to visit? Leave a comment, and I'll pick a winner at random. The winner gets a signed copy of WARRIOR, the first book in the BLADES OF THE ROSE series—and it's set in Mongolia! I look forward to reading your answers.
Until then, happy travels!
Zoë
edited to add… contest will run through the weekend. I'll close the thread when the contest ends.  ~Shiloh