Dear Authors: (Some of you, at least)

see more Lolcats and funny pictures
Let me explain…
First, the definition of social, from M-W.com
Main Entry: 1so·cial

Pronunciation: \ˈsō-shəl\

Function: adjective

Etymology: Middle English, from Latin

socialis,

from

socius

companion, ally, associate; akin to Old English

secg

man, companion, Latin

sequi

to follow — more at

sue

Date: 14th century

1 : involving allies or confederates <the Social War between the Athenians and their allies>
2 a : marked by or passed in pleasant companionship with one's friends or associates <leads a very full social life> b : sociable c : of, relating to, or designed for sociability <a social club>
3 : of or relating to human society, the interaction of the individual and the group, or the welfare of human beings as members of society <social institutions>
4 a : tending to form cooperative and interdependent relationships with others of one's kind : gregarious b : living and breeding in more or less organized communities <social insects> c of a plant : tending to grow in groups or masses so as to form a pure stand
Social… involving allies.
Pleasant compansionship with friends.
Associates.
Sociability.
Club.
Relating to the human society.
Interaction.
Interaction… yes, let's bold that last bit.
Actually, let's BOLD, UNDERLINE and REPEAT…
Interaction
Dear Authors… if you're not actually interacting out there on the social media platforms of twitter, goodreads, facebook, myspace, whatever fricking else there is…if all you're doing is spamming the people you're 'friends' with recommendations of your own books, you are doing it wrong.
And yeah, I can actually say this with some level of authority.
I'm not new to the internet and I'm not new to interacting with online readers.
Started out in epublishing and like  a lot of authors who started out in e, or digital publishing as everybody is calling in now, my 'platform' was interacting with readers, mainly through yahoo loops.
The one thing that annoyed the snot of me as a reader and a writer was the author who could not stop talking about her own books.  And guess what… it didn't just annoy me.  It also annoyed readers-and no, not talking based on assumption, but on conversations I've had.  These are the authors who when they came on the loops, oddly enough, they could stop conversations.  Not because they were so witty or because everybody was awed and amazed by them, but because they could manage to silence fun conversations.   They would chatter endlessly about themselves, only themselves and always themselves but never with anybody.  It was a one-person love fest.
And it was boring.
In short…
Social Media is not about you.
Is it about promo?  Well, if you're an author. Sure.
But there's clever promo…which will win you readers.  It's also fun.  It's just talking, really.  Social media is just a conversation-you talk about books, life, gripe about losing weight (yes, I do that… a lot…) music.  It's just a conversation.  It's easy… and yes, it's promo.  It's clever, subtle promo, sure.  But it's the only kind that I can actually tolerate for myself because I don't have to stand out there and talk about me, myself and I-because that bores the hell out of me.
Social media isn't about me.  It's about us-so it has to involve others.  It has to be subtle for it to work.  So there's subtle, clever promo…and there's this kind of promo.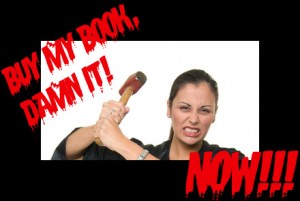 Seem it extreme?  Well, I'm sorry, but it's not.  Not really. I hate to tell you this, when you use social media to spam people but never really interact with us?  Us meaning readers, writers…all of us, the people who make up the up the social part of social media?  You're not getting it.  All you're doing is beating us over the head with your books.  Does that mean you won't get a few hits?  Of course not.  Sure you'll get a few hits.
But it also means you're going to annoy people.  You're going to have people who just delete your messages without reading them, or if they are fed up like me?  They delete you and they might even go that extra step like me, mentally placing your name on Never To Be Bought List Simply Because You Annoy The Snot Out Of Me.  Yes.  I freely admit-if you hit me with book recs of your books on Goodreads, I delete you and yes, I do tend to keep track of the people who repeatedly spam me and I don't buy their books. My TBB list is endless-if there's a way to cull it down?  Why not?  This is one way to do it without me feeling guilty about giving a book a chance.  If you hit my inbox on facebook with messages about your latest and greatest, I remove you from my friends list.  There is no point in keeping you on my list, because you're not there to interact.   You're there to spam and I get enough spam in my email-I don't need it on social media.
Want to get the best out of social media? Interact.  If you can't invest the time to do that, then you're not getting the benefit out of it anyway, because we really, really don't react to that above selling tactic. We like being talked to-not hit over the head with a sledgehammer.
And yes… I realize this post is lacking in some subtlty itself, but sometimes, you just got to go with it.  Subtlty is a nice tactic for promo.  But when it comes to being deluged with BUY MY BOOK spam, subtle doesn't seem to work.