And this is like… wow.  Carly Phillips is at my blog!!! Okay, pull it together…ahem.

Carrying on, turning it over to Carly…
Family.  Can't live with 'em … can't live without them … even if sometimes we'd like to.  KISS ME IF YOU CAN, in stores 7/27, is at its heart, about family.  Let's face it.  Everyone has family or close friends who are just … somewhat off.  Eccentric.  Okay let's say it: Odd.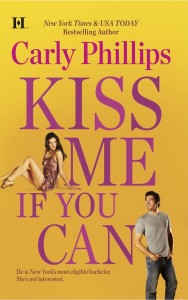 There are the oddball relatives we adore (like my heroine, Lexie, and her Grandma Charlotte, who she loves dearly) and there are the oddball relatives we would rather keep hidden away.  KISS ME IF YOU CAN only brings out the endearing relatives, thank goodness!
Sam Cooper (Coop) saves a jewelry store from a robbery and is given his choice of jewelry as a thank you.  He picks what he thinks/hopes is an inexpensive piece.  Lexie Davis sees the ring on the news and knows immediately it's a match for her Grandmother's necklace and sets out to meet Coop – and buy the ring as a surprise for her Grandma's 80th birthday!  Little do Coop and Lexie know, Grandma Charlotte has a secret past that Coop's reporter instincts and the resurrection of the jewels threaten to reveal.  What ensues us a light fun romp – but one that leads Lexie to some painful family truths.
For me, there are some fun family secrets in this book too … from the smell of Grandma Charlotte's apartment, to her best friend Sylvia, and even Sam, I found places to put personal touches.  Nobody will know but me, but it made the writing of this book even more enjoyable.  I don't have any one quite as quirky as Charlotte and Sylvia, but I do have an oddball relative or two of my own …
What about you? Do YOU have a relative or two you'd like kept hidden? Or one special family member you adore despite their quirks?
Carly Phillips
Contest…everybody who comments will be entered for a $20 GC to Amazon, Borders or B&N (readers choice!).  This contest is for US readers only…thank you!
Note from Shiloh: I'm out of town and will draw/post winners sometime next week. And yes, make sure you read my disclaimer-winner's name will be posted here, you have to check back to see if you've won…yadda yadda yadda… *G*