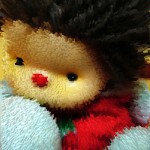 I've got a friend…her name is Lime.  No, not really.  But that's what I'll tell people.  She's got this saying she uses on twitter sometimes, and it's so cute…that makes me sad…on the inside.
So I have this thing…and it makes me sad on the inside.  See my sad little bear, even?
I do these contests.
And I have a very clear disclaimer that makes it very clear that if you wanna win, you have to check back on the blog.
Now I give people about a week or two, because I'm usually pretty vague when I'll end these…along the lines of…
it will run for a few days
it runs thru the end of the month
it will end sometime next week
So I'm not a hard nose it, saying somebody has to claim the prize within XX amount of hours.  I do make it clear that people do need to contact me to claim the prize.
Why?  I mean… why can't I email them?
That's easy.  I used to do that.  But there were some winners I would try to contact for weeks.  There was one prize, I ended up trying to track down the winners for almost a year.  Sometimes I'd email people every other day for 2-3 weeks.
Finally, it dawned on me.
If I enter a contest and really want the prize?  I'm going to at least check back.
So that decided me.  If people really want the prizes they are entering for on my blog, in my newsletter, etc, they can check back.
I don't give a super-tight deadline.  It's usually a week or so, and I'm fairly lenient.
And if the prize isn't claimed, I usually draw another winner.
But this is also getting time consuming.
So I'm revising my rules. With the exception of prizes offered by guest bloggers, from here on out, if the prizes aren't claimed by the original winners within a set period of time, instead of drawing a new set of names, I now reserve the right to end that contest without awarding the prize and just hold the prize for a future contest.
This gets tedious, people.  I realize it might not sound like much, but it's not just a three minute thing-although even if it was, if you have fifty 3 minute things to do piled on top of everything else you're expected to…well, that's a lot of minutes, and I often have a lot of things dumped on me that are 'only going to take a few minutes.
I don't have an assistant who helps me with any of this.  Well, there is the bratlet, but she's still not ready to take on any online chores yet-that's a few years off.  Which means all these little details are still things I have to work in on top of writing and everything else that goes with writing for a living and too many of these things add up and take time away from writing.
So I decided I'm either going to have to cut back on contests (or stop with them) or revise how I do them.  I figured you all would prefer I change how I do them.
Basically, if there's a contest here that you wanna win… CHECK BACK.  That's been my policy for a good long while-it's in the disclaimer and I always remind people to read the disclaimer…