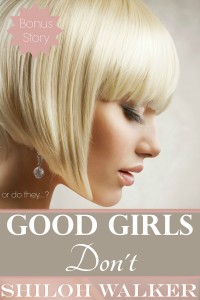 Playing it safe isn't all it's cracked up to be…
Lori is a good girl, although she's got something of a wild streak trying to break free. Her nice, safe fiancé doesn't want to play, though, so Lori keeps her dreams of sexy bedroom games tucked away in the back of her mind.
Then she finds out her fiancé does want to play…only not with her. After finding him with another woman, she kicks him to the curb and heads straight to Exposè, a club where anything goes. She's isn't sure what to expect, but she doesn't expect to find her sexy next door neighbor, Mike Ryan.
Mike Ryan has had a thing for Lori since she moved in, but he knows she's not his type. Even if she wasn't taken, she's a nice, safe girl…or so he thinks. When she walks into Exposè, Mike has to start rethinking things.
Is she just trying to shake off a bad break-up? Or is this something more? He doesn't know but he's definitely not going to let any of the other guys in the club move in on her. By the time he figures out Lori doesn't need protection, they are both in over their heads.
Previously available, this book has been revised. No new material has been added. Bonus read included!
♦
Loosely connected to Wicked Wild Fantasies
Buy