Previously published as Her Wildest Dreams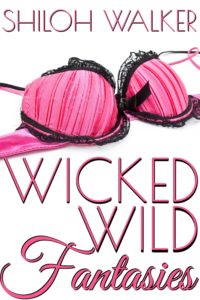 Always the wallflower, Alison Ryan is used to being ignored and pushed around. Everybody takes her for granted, even the strung-out would-be mugger who tried to steal her purse late one night. She can't say who was more surprised when she stood up to him…the mugger, herself…or Detective Alex O'Malley, her brother's best friend and the man she's loved for most of her life.
When a little bit of comforting goes sideways, Ali ends up living out one of her most hidden fantasies, having Alex's mouth on hers, his hands sliding all over her body.
The last thing Alex O'Malley expected was to wake up and find himself wrapped around his best friend's baby sister. He'd just been trying to be a friend and he wakes up in wonderland. Before he could get his head wrapped around what's going on, though, his mouth gets him in trouble and Alison takes off. Plagued by guilt and a need that just won't quit, he keeps away from her.
When life has them crashing back together, Alex can hardly believe his eyes. The shy mouse who used to pretend she wasn't staring at him is gone and in her place is a strong, sexy confident woman who isn't afraid to take her life—and her needs—into her own hands.
Determined to convince her to give him a chance, Alex sets out to make her understand that he is the one man who can make all her wicked, wild fantasies come true.
Previously published as HER WILDEST DREAMS. This title has been extensively rewritten and revised. New material has been added and it has been re-edited.
Excerpt
It wasn't an unusual thing for Alex to pass out in bed with a woman and wake up without quite realizing where he was…or who he was with.
Fact of the matter was, he was something of a hound and he knew it.
So when soft, cool hands stroked over him, he turned into them.
When a mouth opened under his, he didn't question it.
When naked thighs opened at his touch, he didn't think twice.
When he found a wet, soft pussy?  He just appreciated.
Those cool hands stroked over his back with something akin to gentleness, though, and that made him uncomfortable.  He didn't do gentle.  So he caught them and pinned them down, not hard…giving her enough room that she could pull away if she wanted, but she shivered and he knew enough to tell she liked it.
He curled his tongue around tight, hard nipples and let the smell of peaches flood his head as she whimpered out his name.
She writhed beneath him and worked herself against him until he thought maybe she'd drive him mad.  He should have gotten out the ropes…or at least his cuffs.  But he was too damn hot to worry about that now.  Later…and the thought made him smile.
He slid a finger through her wet curls, stroking her, shuddering as he felt how tight she was, how hot. She whimpered and whispered his name, curling against him, her pinned wrists straining, her body lifting upwards to his. He shoved his jeans down, freed his trapped cock, and drove deep inside.
It was the sound of her half-terrified scream that woke him up.
 iBooks | Kobo | Amazon
 | Nook | Smashwords