Title:
Lacey's Game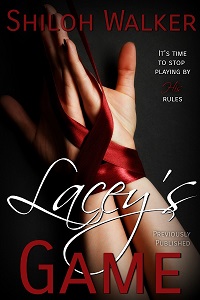 Published by:
Shiloh Walker
Release Date:
6/17/2019
Genre:
Erotic Romance /Romance Erotica
Lacey Morgan is fed up and heartbroken. Her boyfriend Brogan is all about control and she's all about breaking through his barriers. Except she can't seem to do it. Unwilling to settle for only part of him, she takes off, figuring it's better that way. After all, half of a relationship is worse than none. She settles in with her best friend, hot and sexy photographer Lou, figuring she'll lick her wounds and give her heart time to heal.

Finding Lacey gone is a punch to the gut. Finding her with another guy is even worse. She isn't interested in listening to what he has to say, though. Not unless he's willing to strip himself bare and give up pieces of himself that died long ago.

Brogan can't do that. Or so he thinks. Lacey and Lou have other plans, a hot, torrid night, some hot, sexy pictures… Lacey is determined to show Brogan a new way of seeing things.
Add on Goodreads
Buy the Book:
Amazon
|
Barnes & Noble
|
iBooks
|
Kobo
|
Play
|
Smashwords
Excerpt
When Lacey came out the shower, the house was too quiet.
Her stomach dropped and she thought for a minute that Brogan had just left her.
But if he had, Lou would have been there.
As she paced the house, wondering at the silence, she passed by the window to the heavily landscaped, gardened backyards and she saw him, head bowed, standing there.
Without bothering to pull on anything but the terrycloth robe Lou kept on hand for the models who used the bathroom, she headed outside, her heart heavy in her chest.
And the weight only got worse when he turned and looked at her. His face was haggard and his eyes were dull, almost lifeless. As she moved to join him, he looked back out over the yard without saying a word.
Long, tense moments passed.
When he spoke, he said the last thing she would have expected to hear him say. "If I could give you anything at all, what would you want?"
Lacey closed her eyes. "I don't want things from you, Brogan." I want you to want me. To need me.
"I'm not talking about stuff, Lacey. I'm talking about…anything."
She frowned and then looked over at him. The flutter in her chest might be hope. But it had been a long time since she'd felt hope. She didn't want to believe in it. "I only ever wanted you. I want you to give me yourself, to share yourself, baby. To be with me, all the way."