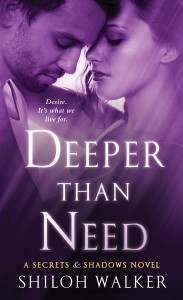 Time heals all wounds.
Eager to put a dark, troubled past behind her, Trinity Ewing buys an old house that will make the perfect refuge for her and her young son once renovations are complete. The last thing on her mind is finding someone new…but the contractor she's hired is an irresistible distraction—and Trinity can't help but fantasize about all the business they could be doing behind closed doors.
So does one man's touch.
Noah Benningfield thought he'd put his demons behind him. But the moment he lays eyes on Trinity, the temptation he feels is too powerful to deny. Soon the attraction between them explodes into something neither of them could have imagined. But their desire will be put to the test when a shocking local murder has them dodging danger at every turn. Can the beautiful and damaged Trinity trust someone like Noah, whose own past is as haunted as her own? The only thing she knows for sure is that she can't live without a man who makes her feel this good—over and over again…
Trinity went to go to her knees.
The bottom of his stomach dropped away as she froze and went white—white as death itself.
"Trinity?"
"Noah…"
Her voice broke.
Following her gaze, he found himself staring.
It took his mind a minute to process it—another to adjust. All the while, in the back of his mind, he heard the echo of a familiar voice…just a ghost by now, but one that haunted him for a long, long time.
"Trinity.  You're sure you're not hurt?"
"Nuh…no, no."
He nodded.  "Then move back, now," he said, his voice taut.  Pulling the flashlight from his belt, he peered into the dark maw, still staring at what Trinity had seen.  "I'm coming down.  I'll boost you out and you can get my ladder."
Trinity was whimpering by the time he got down there, carefully, unwilling to take his eyes off the gruesome discovery.
He touched her shoulder and she hurled herself at him, burying her face against his neck.
He didn't blame her. He didn't want to look, either.
But he couldn't look away.
Nothing could make him look away from the odd, almost mannequin-like display stretched out before them.  It's not real, some part of him thought.  It couldn't be real.
Parts of it were nothing but bone.  That wasn't the worst.  The worst were the almost flesh-looking parts, bits that looked a strange, greyish-white.
"Tell me that isn't a person," Trinity said, her voice low and soft.  "Please tell me it isn't."
Noah wished, more than anything, that he could do that.
Instead, he just cupped his hand over the nape of her neck.
In the back of his mind, he heard the words… Noah, just trust me…