I think I've forgotten how to do this…but… HI! I have book coming out soon!
It's a new paranormal romance, called A Prime's Passion.
Here is a pretty cover…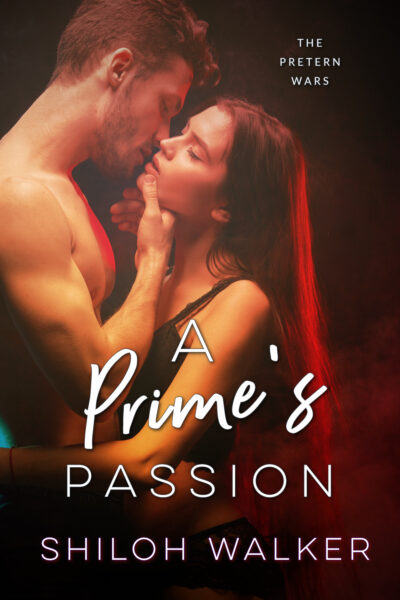 Here's is a blurb:
Eyes down, little wolf.
In her world, the strong were broken young or they didn't survive. Eyes down, little wolf, Zee's father would say. You aren't strong enough yet.
Zennia Day kept her eyes down and stayed quiet, knowing that one day, she'd escape.
When her chance comes, she finds herself on a road that takes her far from Massachusetts, all the way to North Carolina.
She has her eyes on the future…until she meets Niko, a dominant Therian male and future Prime. When she looks at him, instead of a challenge for dominance, Zee sees a promise of forever.
Niko charmed her, teased her…and stole her heart. Mere days later, after making a public, permanent claim, he crushed that same heart in his fist, tossing her aside in front of the entire world and casting her out of pack lands.
Ten years later, she's an outcast, living far from her own when she gets word her father is dying.
She can do nothing—she was banned. Violating Niko's order was to court punishment, even if it was just to tell her father good-bye.
"Day is dying."
The blunt words almost had him on his knees until Niko realized his second-in-command wasn't talking about Zee, but her father.
No Therian is ever left to die alone, so Niko sent orders the Day family to come home.
Niko is unprepared for Zee's message. I have no pack. I have no home.
The words leave him shattered.
Realizing what he'd done in his rage, Niko pushes harder for answers. It doesn't take long to discover that what he'd heard a decade earlier had been based on lies. Because of those lies, he'd thrown away the love of his life.
Zee's been paying the price ever since.
Now he must mend a heart he'd broken…and convince her to give him one more chance.
Here are ways to preorder
Here is a short snippet:
Before she could speak, he took those parted lips, thrusting his tongue inside as he slid his hand between her thighs and found her flesh slick and wet. She jolted when he touched her clitoris, a strangled cry leaving her throat. Grinding the heel of his hand lightly against her, he lifted his head just in time to see her eyes widen, the green glowing as her climax slammed into her.
The musk of her arousal perfumed the air, turning him into a greedy, hungry monster.
"I need a taste," he muttered against her lips before dropping to his knees in front of her.
She stiffened, but he ignored it, wedging his shoulders between her thighs, then in the name of expediency, lifted her up and braced her back to the door. Holding her steady, he guided her legs over his shoulders. She was still shuddering, shaking when he slid his tongue around the stiff, swollen bud of her clit and her moan sounded like music to his ears.
She fisted a hand in his hair and gasped out his name as he licked up all the honeyed sweetness and the beasts inside him snarled, outraged that she'd thought about finding another man.
Mine…he thought. You're mine, Zee. I'll make myself worthy of you again.
Stabbing his tongue into her, he worked her to the brink of the next orgasm—and it took so, so very little—but just when her muscles started to clench, he stopped, shifting his attention to the soft skin of her inner thighs, kissing and petting.
"Niko!"
He bit her and she went rigid, spine bowing in a long line.
"Please…" she whispered.
He rose, need riding him like a demon. Cupping her chin in his hand, he kissed her, sharing the taste of her body. She closed her mouth around his tongue and sucked with greedy hunger.
The action went straight to his balls and he made a mental apology—whether she wanted seduction and tenderness didn't matter, because he planned to give her those things.
But…not yet. Not until he'd sated them both, eased this gut-wrenching need.
Here is a release date: 9.20.2021
I think I got the important stuff…