Howdy folks…a long overdue update on COCKSURE…it is finished.
Thank goodness. This is the first non-freelance book… meaning it's mine, mine, mine, mine, mine that I've been able to start and finish since my brother passed, and the dry spell was starting to get to me.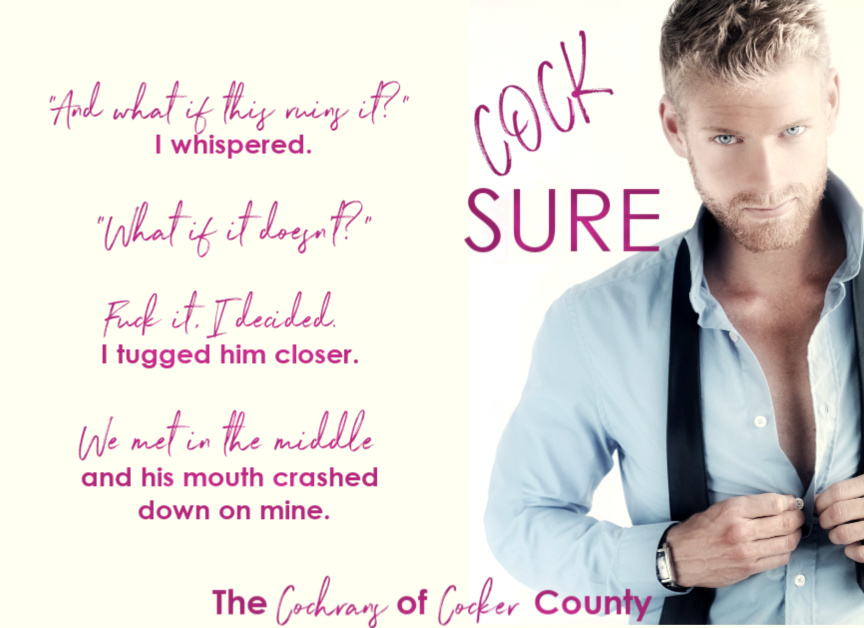 And if you're a trope lover, this one is trope-tastic.
✔️ fake fiancee
✔️ friends to lovers
✔️ secret crush
✔️ movie star
✔️ small town
✔️ plus sized heroine… she jumps between 14 – 16 and the heroine thinks she's the hottest damn thing ever.
Have you pre-ordered COCKSURE?
Sabrina
He's the cockiest bastard I've ever met and I mean that with all the affection and adoration in the world.  I've been in love with him for years, and not just because of those intense blue eyes or that slow smug smile that promises to make all your dreams come true. I've seen what lies under that smile and his cocksure attitude. It's enough to make me melt.
Not that I'd ever let him know.  Not only is Luke Cochran one of Hollywood's up-and-coming movie stars…he's also my boss.  I'm his personal assistant and have seen all the women who come and go in his life.
I don't even hold a candle.  But a girl can dream…right?
Luke
Sabrina is one of the sharpest, funniest, kindest people I've ever met. Sometimes, I think I'm taking advantage of her, but I seriously cannot cope with my hectic lifestyle without her to keep me on track.
Of course, my life just got totally knocked off track.  One of my sisters called.
They need me back home. My mother is sick and the last thing I can think about is the promotional tour I've got coming up.
Sabrina's coming with me.  She's the only person who can keep me focused and centered in a time like this. Besides, my family adores her. And it's just a quick visit. My mother is tough.  She'll be alright.
But then something happens that knocks me for a loop and when my mother tells me that all she really wants in life is to see her kids happy and settled down, I do the stupidest damn thing ever and announce that Sabrina and I are in love.
Now I've just got to convince my best friend to play along with me and act like she's my fiancée and we're stupid in love.
No big deal…right?
WRONG.
Amazon | Barnes & Noble | iBooks | Kobo | Smashwords
Shameless Book Con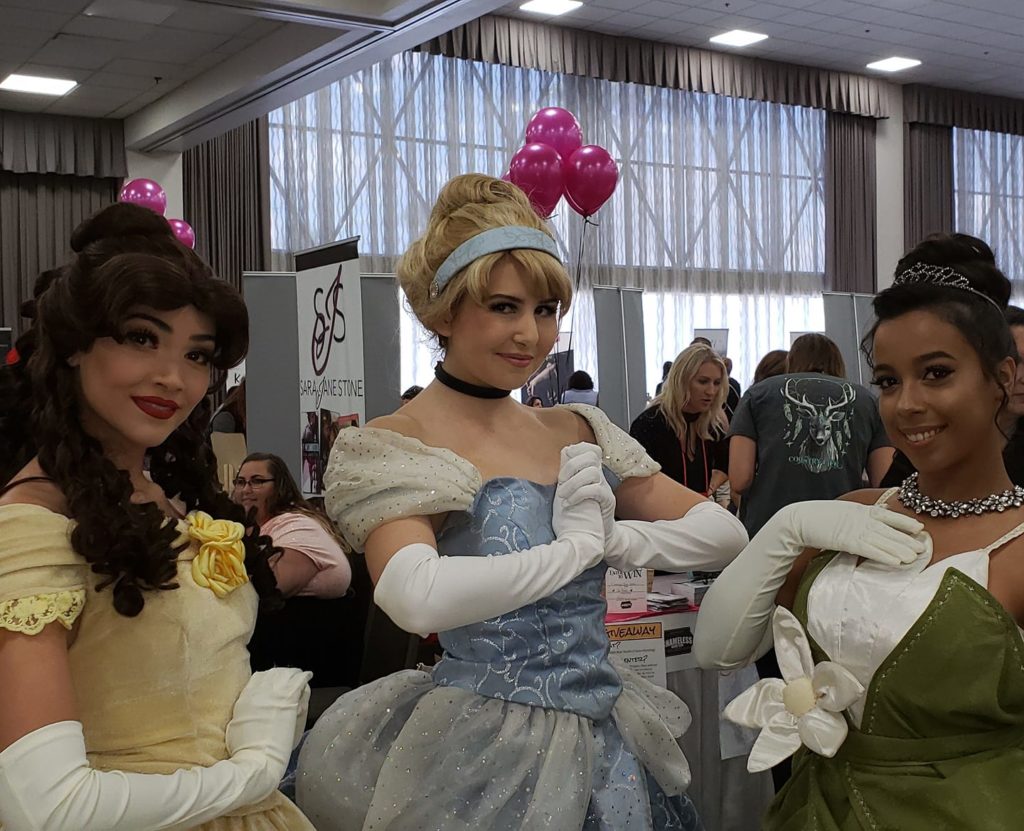 Spent half of last week in Florida. This time, Bratlet went with me as my official assistant. It was her first time doing so and she had a ball.  As her payment, we went to Universal, bought wands and cast spells, as one does.
On Thursday night, we walked for hours at the Halloween event they have at night with a reader friend, MK, who was amused by bratlet, and amazed me with her patience. This is the second year in a row for MK and me to hit the haunted houses at Universal, and…oi. I'm not getting any younger.
Friday, a writer/blogger friend of mine, Natasha, showed up.  She was rooming with me for the event and delighted bratlet with a pair of cat ears decorated with roses. Bratlet loves cat ears… the kind you wear on a headband? LOVES them, and Natasha had an extra pair, which she gave to bratlet. Kid was over the moon.
Then starting Friday night, I hit the ground running for Shameless Book Con. After the cocktail party, I had to get some freelance work done and ended up talking with fellow author, Seleste Delaney for hours. First outside, then at the bar and we chatted with readers who came and went, too.
Shameless is a wonderful, open environment and Angie and her smuffins (smut-muffins) outdo themselves every time. One of the best things about an event like this is how laid back it is.
There's plenty of time to sit and talk with fellow authors, to catch up with readers you've met at previous years, or meet new ones. There are always groups of both authors and readers hanging out in the bar or on the patio, just chatting and talking…sometimes about books, sometimes not.
There are meet-ups for newbies and those coming alone so nobody needs to feel out of place or anything and the whole vibe is casual and welcoming. Well, casual up until the madness starts.
And that madness…Saturday, hundreds of authors and readers overwhelmed the Doubletree Hilton at The Entrance to Universal. The signing started at 11, lasted until 5 and was packed almost the entire time.
And if all of this was at Universal, why are there Disney princesses? Because next year, we are going to DISNEY! Hot damn.  I love it when I get to say I'm going to Disney…for work purposes.
You should join us. Shameless Book Con is epic, easily one of the best book conventions I've ever been to, even if I do end up cramming my office full for weeks on end with pre-orders, swag and other assorted sundry goods needed for such an epic event.
I had dinner with another reader friend SH after the signing, somehow managing not to fall asleep in my food. After that, Bratlet and I trudged back to the hotel room. She told me she'd drag me if she could but I was just too heavy.  I was worn out at this point and had to skip the big gala at the end.
Now I only need about a month to recover…maybe. If I'm lucky.