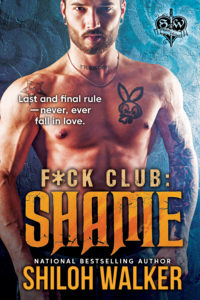 Releasing 2.26.2018
Max "Shame"' Schaeffer knows only one way—the hard way. He lives hard, drinks hard, fights hard…and if comes to it, he figures he'll die hard, too. The only soft thing in his life is Charli Steele, the younger sister of his two best friends. He knows she thinks she's in love with him, but with his tarnished and messed-up past, he doesn't see anything in him worthy of love.
Dr. Charli Steele knows more about Shame than he realizes, and she has loved him since they were kids—scars and all. He loves her, too. She is sure he does. But Shame will never give in to it. Until one brief, stolen night leads to another…and another. Then Shame decides to throw it all away. Heartbroken, she retreats, intent on trying to heal from this latest rejection. But a phone call in the middle of the night changes everything.
Shame is hurt, and he needs her.
It turns out he needs her a lot more than he realizes. But will he let her in…before it's too late?
* * * *
Charli didn't seem to mind his lack of response, running her tongue over his top lip before moving to the lower one, flirting with the seam of his lips before starting it all over again, teasing and taunting him.
When he still didn't move, she eased away. But if he expected her to be dejected by the fact that he still wasn't reacting…well, he had to remember. This was Charli Steele. And what Charli wanted, Charli got.
The determination glinted in her eyes as she pulled back.
If he was a smart man, one who believed in self-preservation, he would have turned and run like hell.
But maybe he was tired of fighting a need that tied him in knots.
So he just stood there as she reached for the waistband of her skin-skimming tank top and peeled it away, proving that she, too, could dispose of the shirt in a second.
Under it, she wore a bra the same color as the tank—midnight blue—and her skin gleamed like satin against it. He'd been with women who wore lingerie so exotic it boggled the mind. Yet there was nothing he'd ever seen as sexy as Charli in a dark blue bra and her jeans. She moved closer again and wrapped her arms around his neck. "How long you think you can hold out?" she whispered against his lips.
That was a damn good question.
The feel of her skin against his was a temptation he wasn't sure he could handle.
It was a torment he wanted more than anything.
He didn't like to be touched during sex.
He'd do all the touching, all the fucking, all the everything, but having Charli dip her hands into his hair as she slanted her mouth over his was a sweet, sweet pleasure and he groaned as she licked at his mouth.
That faint noise had his mouth open just the slightest and he tensed as she teased her way past his lips, bringing with her his first real taste of her.
It was a drug.
It was the drug.
The drug he'd crave the rest of his life.
And that was the second crack in his control.
As he opened wider for her kiss, she curled around him and thrust her tongue past his lips. Her nails scraped over his scalp and he shivered, thinking about feeling those short, neat nails scraping over other parts of him.
She arched against him, and even though he knew it wasn't possible, he imagined he could feel the heat, separated by layers of denim and cloth. He wanted to strip away her jeans, peel off her panties and kneel in front of her, taste the wet heat of her pussy, then lift her up and impale her on his cock.
That image didn't quite shatter his control.
But her shaky voice as she whispered against his lips? That did him in. "I want you, Max. Please don't act like you don't want me back."
His control shattered, falling to tiny pieces around him.
Shoving a hand into her hair, he yanked her head back and took control of the kiss just as she went to slide her tongue into his mouth again. He caught that sweet thing and sucked on her, feeling her shake against him. Her nipples were stiff points, stabbing at him through the silk of her bra and he reached up and yanked the straps down her shoulders to bare her breasts.
He pulled back to stare at her, desperate to feast his eyes on a sight that he'd fantasized about for years.
Charli was petite, but she was also stacked. As he cupped her breasts in his palms, she arched against him, filling his hands to overflowing. "Not want you?" he muttered as he lightly tweaked her left nipple. "I don't know, Charli." He caught her hip in his hand and dragged her up against him, letting her feel the weight of his erection against her belly. "Does this feel like I want you?"
She whimpered, her eyes going wide as he boosted her up and planted her against the door. "Maybe you didn't get a good enough idea," he said, his cock now cuddled between her thighs. "You think I want you?"
Her breath caught in her throat.
It made her tits rise and fall and he swore, lifting her left breast up so he could close his mouth around her nipple. She shrieked as he bit down lightly.
And this time, he knew he wasn't imagining anything as a rush of warmth centered between Charli's thighs.
Dragging his mouth from hers, he met her fogged gaze and said, "You better call a stop to this now, before it's too late."
"You think I've spent the past few years trying to get you to pay attention to me to back away now?" She reached up and caught his neck, dragging his mouth back to hers.
She bit his lower lip and he growled in response, urged on by the wildness of her kiss. Crazed by it even.
He let her legs go and reached for the zipper of her jeans, desperate now to have her wrapped around his dick.
Amazon | BN| iBooks | Kobo | Smashwords
Enter to win…
Check out books 1 & 2, on sale throughout February for only 0.99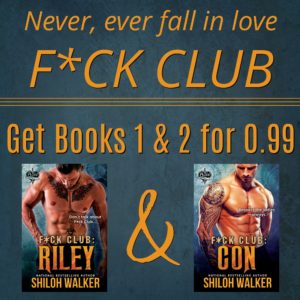 Book 1
Amazon | Kobo | B&N |  iBooks | Smashwords
Book 2
Amazon | Kobo |  B&N | iBooks | Smashwords