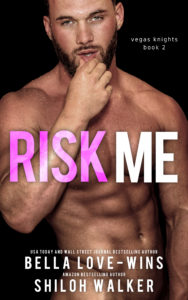 LeVan
She was mine before I ever laid eyes on her.
It took an instant to know we were meant to be.
She wanted an escape and my arms were wide open.
She endured a life of pain. I could give her solace.
She saw baggage. I saw hope and connection.
But most of all, to her, I was forbidden.
I wanted her more because of it.And just when I thought I had her, we were ripped apart.One innocent act to escape forced our families onto a collision course.
I was fooled into believing she could risk everything for me.
Her hands were tied.
She was more of a prisoner than I'd even thought possible.
She was just out of reach.
And watching, waiting and wishing wouldn't bring her back to me.
But people like us never got lifetimes of happiness.
Moments, maybe.
We didn't get fairy tale endings.
Our love story was destined to end in tragedy.
Risk Me is a full length (60,000 words) steamy standalone romance with no cheating, no cliffhanger, and a happy ever after ending. Content Warning: Contains sensitive, potentially polarizing topics, and emotionally dark story elements that may be disturbing to some readers. Intended for 18+ readers.
Excerpt
That voice.
Deep, rich, smooth as molasses and just as sweet, it rippled and poured all over me and I had to suppress a shiver. It was hard to believe, but LeVan Vanderbilt's voice had gotten even better with age. From the corner of my eye, I saw him glide in front of me—and I saw his hand come up just as Rose Dress went to throw her red wine in my face—and while I might not have been wearing Armani anything, I was wearing a pair of Louboutins and a dress of my own design.
"Security is going to escort you out," LeVan said, standing slightly at an angle to me as he spoke. "If you behave, you can stay in the hotel. If not…well, David can decide if he wants to join you or not. He's welcome to remain at the party, but you just had your ticket revoked."
He'd cut his hair. I'd noticed it earlier and wondered when he'd done it. All the promo material around the hotel still showed him with the long, heavy dreadlocks, but now his hair was cut short, close to scalp. It didn't matter. He was still as beautiful as an angel, carved by the hand of a master.
"Thea. It's the Magic Man." Miraculously, Nicky had calmed down almost completely, now twirling an overlong lock of hair instead of smacking his fist against his thigh—or his head.
"I know, buddy. Are you good?" The question came out of habit more than anything. My gaze was still on LeVan, the air in my lungs shrinking away to nothing.
LeVan turned then, the movement almost obscenely slow. I squeezed my eyes shut and sucked in a breath before looking back at him.
He'd started growing at thirteen and hadn't stopped until nineteen, topping out at a lean and sexy six foot three. Not petite by any stretch of the imagination, I stood five eight in my bare feet and I'd deliberately picked a pair of heels that would give me another two inches, but he still had five of them on me.
"Hi, LeVan," I said, ignoring the chaos coming from behind us as security escorted Rose Dress away.
LeVan just stared.
Then he moved.
A second later, his mouth was on mine and I wrapped my arms around his, leaning into him like nothing and no one else in the world existed.
Dimly, I heard a couple of people whistle, maybe even a whoop or two.
But nothing mattered but the feel of his mouth on mine and the hand that had arrowed into my hair.
He held on like he'd never, ever let go.
And I was just fine with that.
Look for the free prequel