For some of you who have been reading me for…well, forever, this is third time this book has been around the block. Oi.
No Longer Mine – Shiloh Walker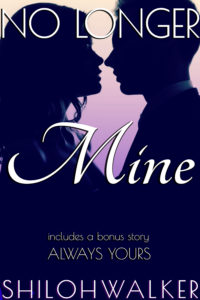 One woman, one man, and a love that won't let either of them go.
Born on the wrong side of the tracks and dealt a fair share of hardship, Nikki Kline never gives up a fight. Even when her reason to keep going is ripped from her, Nikki tries desperately to hang on. But when the man who broke Nikki's heart comes back into her life she doesn't know how much she can take. Especially since that man seems determined to win back her damaged heart.
Wade Lightfoot is a man who knows he's made more mistakes than most. As much as he would like to repair the damage he's done to those he loves, Wade also knows there is no going back. But when he sets out to put things right the last thing he's prepared to find out is that he had a son. A son he'll never get the chance to meet.
When the truth is out and all the old wounds are bared, it seems impossible that Nikki and Wade will find their way back to each other. But true love is an undeniable force that even past hurts can't destroy.
This book has been previously published and has been revised from its original release.
"Why don't you make yourself at home?" she drawled, her voice sugar sweet. She soaked a rag with cool water and lifted it to her nape, swiping her neck and chest and arms with it, taking perverse pleasure as his eyes heated.
"Don't mind if I do," he returned, sipping at the drink and winking at her over the rim. His eyes, however, lacked the lighthearted tone that was in his words.
As she pressed the cloth to back of her neck, Nikki closed her eyes, trying hard to ignore him, but it was damn near impossible. She could feel his eyes on her as she swiped the cool rag over her hot flesh.
The pounding of her heart had nothing to do with him, she insisted. It was from the exercise, only the exercise.
"Need some help?" Wade offered, his voice going low and rough as her eyes opened and she studied him, her face flushed and damp, body gleaming slightly from her exertions.
Recognizing the look in his eyes, Nikki stopped playing with fire and threw the cloth into the sink. "What are you doing here, Wade?" she asked flatly, crossing her arms over her chest and leaning against the counter.
"I came to see you, of course."
Only on Kindle & Kindle Unlimited at this time.
Will be made available on other platforms in fall 2017
I'm trying to reach some new readers this time around so it's a KU exclusive and I'll issue it far and wide in 90 days.
*
Over at my Patreon platform, patrons got to see the cover for Kit #5.  It will go public in 4 more days, or if you want to see now, plus find out what patrons will be getting when I'm done with the book, you can join us…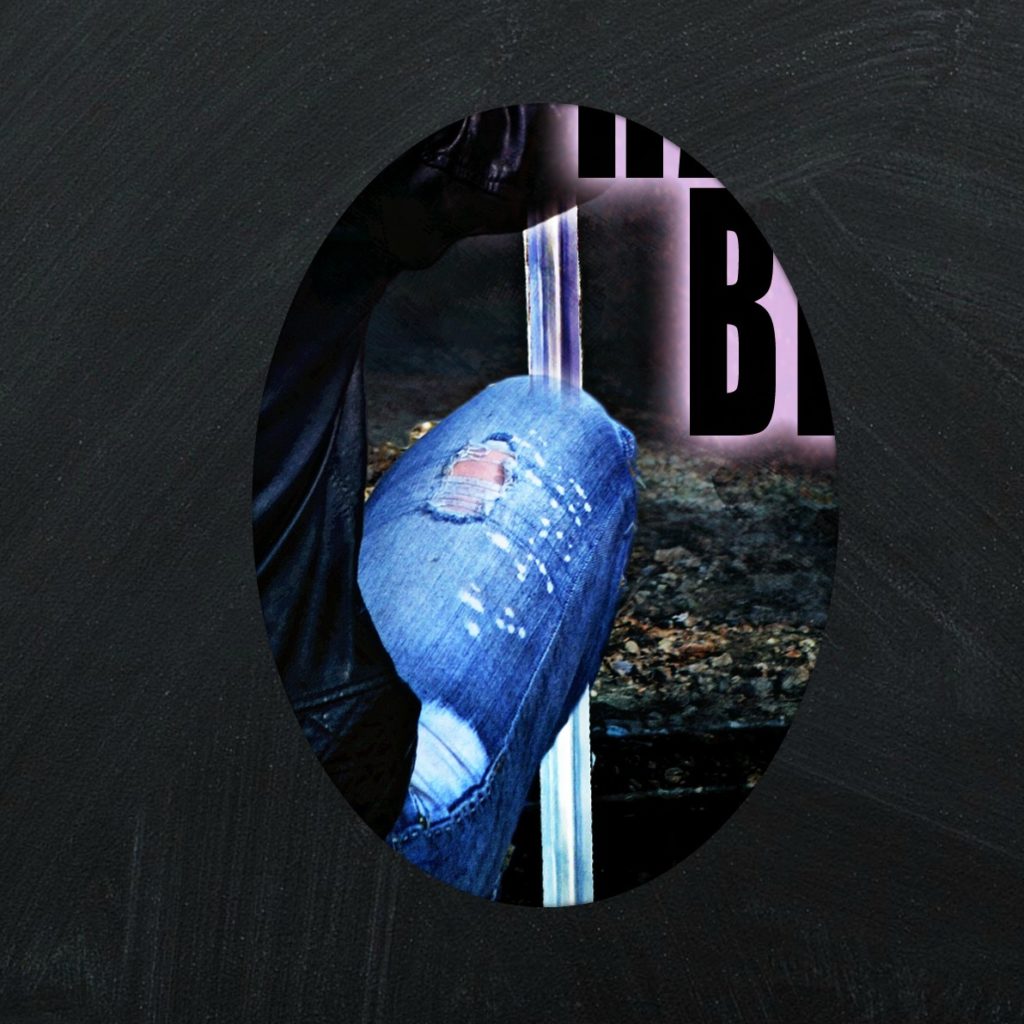 *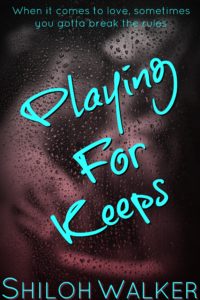 And…last but not least…
This book will be reissuing on Friday.  If you like my friends to lovers stories, don't might have your heart strings pulled and maybe some menage fantasy…
Playing for Keeps
Jacob has always been part of Dana Cochran's life. They've lived next door to each other for years, they've dated on and off and now they see each other through work.
But their timing has just never been right, and when Dana invites Jacob over to play with her and Mason Caldwell…things get complicated.
Doctor Jacob McCoy loves Dana. So much so, that he's even willing to share her with Mason Caldwell. But a red-hot threesome isn't all that Jacob wants from Dana.
When tragedy strikes their fledging relationship, Jacob has to convince Dana that pushing him away isn't the answer.
He wants to be in her life forever. And some things are worth fighting for.
Excerpt
If he kept looking at her, he was going to do something stupid.
Of course, when it came to Dana, he'd been doing stupid shit for half of his life, it seemed.
Need and love could make a man do some seriously strangely things. Like move back into a home he hated, just so he could be near when she visited her parents on break. Things like taking her up on the sassy challenge he'd seen in her eyes one hot, stormy night. Things like sharing her with an overly cocky, egotistical bastard who didn't have the sense to appreciate Dana for the woman she was.
It had been storming that first night when he'd gone to check on Dana. Her electricity had gone out during the storm and he hadn't realized she had company. He ended up walking around the house when she hadn't answered the door and had found her on the back porch, slightly tipsy, wearing nothing but a T-shirt made transparent by the rain and a wide, wicked smile as she smiled up at Mason Caldwell's face.
She hadn't noticed him right away.
If Mason hadn't said anything, Jake could have walked away, suffering nothing more than heartache and jealousy. Well, that and the need to pummel the man's face until that cocky grin was nothing more than a memory.
But Mason had seen him, dipped his head to whisper in Dana's ear. Dana had looked at him and that was all it had taken. He'd been lost to her…but then he'd been lost to her pretty much from the beginning.
*
Rain pelted down all around, soaking his hair, soaking through his clothes, puddling under his feet as he came to a stop at the back of Dana's house.
She was soaked through, too, but she did things for that wet T-shirt that were just plain torture. Her nipples thrust against the white cotton, hard and erect, and the wet material clung to the slopes of her breasts, her trim torso and flat belly, clinging to her hips and making it all too clear that she wasn't wearing anything under the T-shirt. It stopped at her thighs and left the long, golden length of her legs bare.
Water droplets clung to her legs as she sauntered his way, smiling at him through the rain. "Hey, Jake…"
"Sorry. Wanted to make sure you were okay." Forcing the words past his tight throat, he met her pale golden gaze and shook his head, backing away. "The…ah…the storm. It's knocked out all the power…"
Mason, the guy she'd been dating off and on since the past summer, slipped up behind her and wrapped his arms around her waist. Over her shoulder, Mason smiled at him, apparently not the least bit concerned about Dana's all-but-bare breasts, or the fact that Jake was all but drooling over them.
Dana leaned back against Mason and pressed a kiss to his jaw. "Hmmmm…I'm just fine, Jake." She slipped away from Mason and came towards him with a smile on her face. She stopped just a few feet away, and tipped her head back to the sky. She wobbled on her legs and ending up falling against Mason with a giggle. "I love thunderstorms."
He knew that. She'd always loved thunderstorms, even when they'd been children and other kids would run inside to hide. Dana's parents would have to drag her in out of the rain and watched her like crazy to make sure she didn't slip back outside.
Smoothing a hand up her side, Mason steadied Dana on her feet before grinning in Jake's direction. "We were playing truth and dare." There was a smirk in Mason's eyes, a look that made it more than clear that he knew what Jake was thinking, even if Dana was blind to it.
Just barely, he managed to keep from sneering at Mason as he replied, "I stopped playing games a long time ago."
Dana giggled and wiggled free from Mason's arms again. "You should play more, Jake." She stumbled against him, braced her hands on his chest. Lifting her face to him, she smiled and pressed her lips to his. "Wanna play with us?"