Just under two weeks, I think…did you read the serial?  I always said if I ever did a billionaire romance, I'd make her the billionaire and he'd be the one down on his luck.  So that's what I did.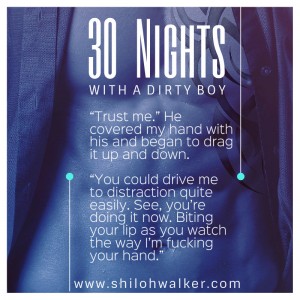 Also, he's a male prostitute.
Thirty Nights With A Dirty Boy
Part I
 
Money Can't Buy Love…
Ella Cruise doesn't like to be touched. A survivor of childhood abuse, she craves security in all aspects of her life: fulfilling work at the nonprofit she runs, more than enough money to live comfortably, and a good friend and confidant. But none of it can ease her longing for intimacy, even if just for a night. When she meets a gorgeous bartender who moonlights as a male prostitute, a bold idea begins to take shape…
But It Can Buy a Night of Passion–or Thirty…
Sean Lachlan is stunned by the cool beauty's offer: 30 nights of no-strings sex in exchange for all the money he'd need to start over. The deal seems too good to be true, especially since his desire for her is no act, but Sean finds he can't turn her down. Before they know it, Sean and Ella realize they're in deep, their defenses crumbling. Will thirty nights with a dirty boy be enough after all, or will love lead Ella and Sean back to the negotiating table?