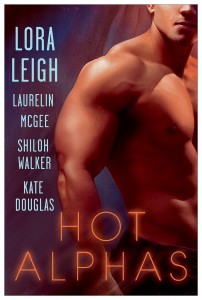 Check out Hot Alphas…releasing today in paperback! Four sexy stories…
FYI, my title is from my Secrets & Shadows series, the novella BURN FOR ME, so if you've read it, please be aware!
Four sexy short stories featuring four hot alpha heroes, headlined by #1 New York Times bestselling author Lora Leigh.
In Erin's Kiss by Lora Leigh, ex-Marine Turk has become Erin's sworn protector. The target of her CIA-operative brother's foes, Turk is the only port Erin has to cling to in a storm. He promised her brother long ago never to touch her–but how can he resist a woman who aches to be with him as much as he burns for her?
In misTaken by Laurelin McGee, Jaylene is an independent woman whose feminist values run deep. The last thing she wants is a man telling her what to do. Until she meets her mysterious new neighbor. He makes her realize that you can still be strong and relinquish control… in the bedroom. But as their passion consumes them, Jaylene isn't sure he is who he says he is.
In Burn for Me by Shiloh Walker, Tate longs to spend his nights with Ali, a woman he's loved for years. But while Ali's heart aches for him, her head has reservations. Ali knows that Tate has unresolved anger that is a force to be reckoned with…but the heat that blazes between them is undeniable. Now both Tate and Ali are left to wonder: Can love really conquer all?
In Tangled by Kate Douglas, Nate shows up to work at Tangled Vineyards ready to do what he loves best–craft award-winning wines. But when something better comes in the form of Cassie, the winemaker and former owner, Nate is completely love-drunk. Getting involved with Tangled's mixologist is a bad way to start off a new job, but with Cassie as a temptation, Nate doesn't stand a chance.
* * * * *
She was done.
Staring into her pretty green eyes, while that pain tore into him again and again, only one thought managed to cut through that pain.
Like hell.
He closed his hands around her hips and  boosted her up onto the kitchen counter. "No," he said, his voice gruff and ragged as he pushed her thighs apart and moved closer.  He slid one hand along up until he could palm her butt and then he yanked her against him and he watched the heat bloom in her eyes, felt the slow, subtle tremor that went through her.
Her skin went the color of a rose, low on her chest,  bared by the skinny-strapped shirt she wore and he knew if he pulled it away, that faint rush of color would go all the way down to her breasts.
"No," he said again.  "This is more than friendship."
The need to strip her clothes away, climb on top of her, feel her close around him was strong, grabbing him by the balls—she would feel it, he knew that.  He could show her just how much more this was.
Hot Alphas
Amazon | BN | Indiebound | Book Depository