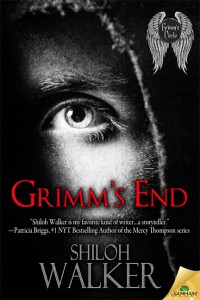 The last story in the Grimm's Circle series is coming out next month. Right now, it's up on Netgalley. If you're a review, it's a great time to check it out.
Also, you can now preorder!
~*~
"Trying to keep him from giving into the dark side."
A weak laugh escaped me. "You remembered some of your geek training, Will."
He took a step toward me. "I forgot the color of the sky. I forgot the sound of human voices. I forgot what it was to have food in my belly…"
He was in front of me now.
"But I didn't forget the sound you made when you sighed in your sleep," he murmured, reaching up to cradle my face. "I didn't forget how you laughed when you teased me or the way you would try to make me laugh. You made me laugh when I had gone centuries without it. I forgot so much…but I didn't forget you."
I gasped when he lowered his face to mine. When he brushed my lips with his, I felt tears burn.