Sometimes you get to a hotel and the view is just… blah. Today it's pretty decent.
Blue Skies…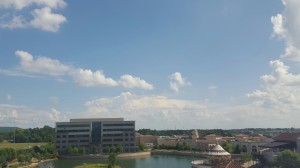 I'm down here for the Heart of Dixie Readers Luncheon (tomorrow) where I will eat, drink and be merry with readers.  Some of the other authors in attendance include Sylvia Day, Linda Howard, Linda Winstead Jones & Jennifer Estep.
Let me just pause, because…LINDA HOWARD.
Then I sign books at the booksigning.
Then I drive home. The next week involves running and more running and then vacation. Eek.
For now, I'm going to write, relax and enjoy the view…