Sometimes I think I should have gone into photography.  🙂
See this?  The next time you see it, it will be magically morphed into a cover for the Kit Colbana books.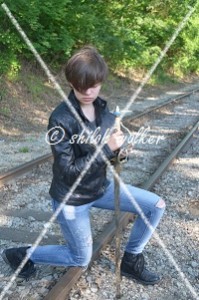 Who is that gorgeous young lady, you ask?
Why…that's Diva.  My oldest.  Yes, it's kinda small and you can't enlarge, but I don't want anybody grabbing it.  I'm taking a whole bunch of pictures of her and my cover lady is going to make her into Kit.  Blonde hair, bad-ass backgrounds…
Cute young lady with kicking sword = awesome urban fantasy book covers.
I'm planning to repackage the whole series.  I love the model I've used for the Kit books, but she's popping up on a lot of books now.  Once I'm done repackaging these, nobody will have these covers.  And I gotta say… my daughter makes one hell of a Kit. At least when it comes to cockiness. 😉