It's a Kit-related thing…not a Kit thing.
O.O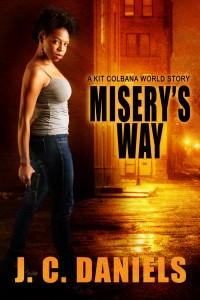 Her name is Frankie. At least, that's what she calls herself.
She looks human, but she's no more human than she is a faith-healer.  That doesn't stop her from using her…more unique abilities to take care of certain needs.  It's those abilities that lead to a chance encounter with an unusual woman in Florida.
It's a chance encounter with fate that will set these two down a collision course with destiny.
This short story is loosely connected to the Kit Colbana Files.  Can be read as a stand-alone.
Due out in June.  Preorder links coming soonish…
snippet
Eventually, the emotions in my head, the misery and easing of it stopped crashing and swelling inside me, coming to an uneasy sort of peace.
Sleep.
I'd sleep—right there…
The sound had me coming up off the bed and landing in a crouch.  Too many years of fleeing from those who might yet hunt me had me drawing my weapon.  The blade was as long as my forearm, the metal matte black—it didn't reflect any light, not that there was much of it in my room.  I'd had the blade designed after a flash of light had almost given me away years ago.  I wouldn't make that mistake again. Not ever.
Head cocked, I listened.
Not even the brush of a shoe on pavement was that quiet.  But somebody was outside, on the farthest edges of the parking lot.
I crept to the walls.
I hadn't turned on the lights.  I'm just as at home in the shadows and darkness as I am in the light.  Comes from living in a perpetual gloom for the first two or three decades of my life.  What might seem an unending, unyielding blackness to others was no hindrance to me.  Placing one foot in front of the other, carefully placing each step, I made my way to the window, stopping just at the edge of the frame so I could peer out.
Behind me, the air in the room stirred.
There was no sound to indicate who it was, but I knew, nonetheless.
"They are clever, aren't they?" I said softly.
Saleel's scarred hand touched my shoulder.  "Shall I take care of them?"
In Saleel's mind, there was only one way to take care of something.
I shook my head.
If I really wanted to take care of them, we both knew I could do it myself.  Just as we both knew that Saleel considered it his job.  His…duty.  Even an honor.
"No," I said.  They were closer now.  I couldn't see her, which was an oddity, considering how pale she was.  I could barely see him, but he was a witch.  I could smell a witch a mile away.  One that pretty was worth keeping an eye on, too.
"I wonder what they want."
"They don't approve of you," Saleel said, and his disgust was so thick, I could have spread it on a slice of toast.
I slid him a smirk over my shoulder.  "Neither did you…once."
His eyes, nearly black even in the bright of day, held mine.  "I did not make a judgment simply because I saw you spread your hands out over a room of ill people."
"No.  You judged me for a different reason entirely."  I gave him an arch look.
A grim smile curled his lips.
Our history was complicated.
Very complicated.
I held out a hand.  "Come.  I'm not in the mood for distractions tonight."
I could practically taste his annoyance as he placed his hand in mine.  He must have been in the mood to play cat and mouse.
Poor Saleel.