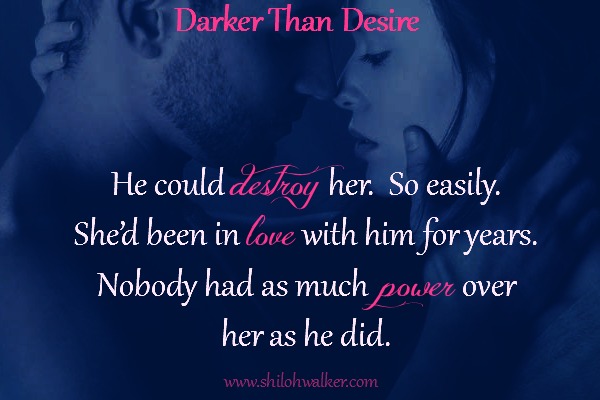 Darker than Desire is due out next week.  This book wraps up my latest romantic suspense series.  For those of you like my more tormented heroes (ahem…Quinn, Broken, etc), the hero in this book is probably going to be right up your alley.
He's…something.
To celebrate the release of Darker than Desire and the conclusion of the series, I'm giving away an ebook reader.  The winner will their choice of a Nook Glow or Kindle Fire (6 in).  You can enter by simply leaving a blog post comment, but you can get extra entries and all of that is explained in the widget below.  🙂
Good luck and if you check out the book, I hope you love it…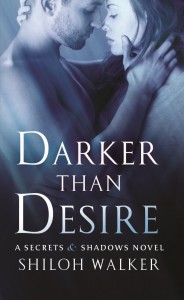 LUST FOR LIFE
No matter how many times he's left her in the  past, Sybil Chalmers can't ignore her feelings for the one man who stole her heart years ago. For countless nights, she has waited for him—for his kiss, his touch—and has longed for him to emerge from the shadows of his past. Only when she is in his arms does Sybil really feel alive…and finally, after all these years, that time is now.
A DEADLY DESIRE
He's a man raised in a world of strict rules and unbreakable traditions and he's always yearned to break free. But when a family tragedy lures him back home, he finds his one true passion has been there all along. With Sybil, he can explore his greatest potential—and allow her to discover a whole new level of ecstacy. But will a long-buried secret threaten to tear them apart? The only thing he knows for sure is that he will do anything to keep Sybil in his life…and keep her coming back for more…
The skin on the nape of his neck stood up.
His blood started to pump.
Slowly, he shifted his gaze and found himself staring across the neat, tidy little lawn.
There.  That was the other thing he felt, a bizarre mix of need, longing and a twist in his heart that he couldn't fully understand.  It only happened around one person.
It wasn't a surprise that she'd found him here.
Nor was it a surprise when his heart did that odd little twist.
She was the other person who managed to make him feel.
She made him want.
She made him need.
She made him regret, too.
Regret that he needed to push her away, regret that he couldn't reach for her the way he wanted.
Regret that he wasn't as strong as he should be, because even as he told himself to push her away, she started up the walk, the short skirt she wore barely clinging to her thighs and all he could think about was pulling her into his lap so that the skirt rode higher and he could cup her hips, pull her down to straddle him.
Vivid, overbright starbursts seemed to explode behind his eyes as that fantasy played out in his mind.  It would be so easy.  This was a secluded street and people had finally given up on the rubbernecking.  Hardly anybody drove down the street to check out the burnt out wreck of the Frampton house.  He could pull that stretchy bit of fabric up and be inside her in two minutes.  It would be so easy to just lose himself to her.
She came to a halt in front of him while his blood pounded in slow, steady waves, while need clenched inside him like a fist.
Tell her to leave, common sense dictated.  He'd already made the decision he needed to make.
But his head, his heart, his cock didn't want to listen.
"Hey," she said, her red-slicked lips curving up.
He stared at her mouth, thought about seeing that mouth open, seeing it glide down his chest.
Blinking, he managed, barely, to look away.  "Hey back."
This was yet another thing he lacked, the ability to talk, even to her, about anything that didn't involve getting her naked and fucking her.  Naked wasn't even necessary as long as he could be inside her, lose himself to her, hide away from the demons that chased him.
But if he kept doing that, all those demons were going to start chasing her, too.
He wasn't worth a whole hell of a lot and he didn't care about a whole hell of a lot.  But he'd burn this whole damn town to the ground before he let anything from his past start to haunt her. Every moment of peace he'd ever known had come from her.  She mattered, more than anything or anybody else in his miserable world.
So instead of reaching for her, he stared out at the water, acutely aware as she sat down at his side.  The journals sat at the other and he resisted the urge to grab them, disappear inside the house, hide them away from her.  Hide them away, hide their secrets, as if that would make the truth any less than true.
"I don't blame that kid," Sybil said out of the blue.
Caught up in his own head, he barely understood what she meant.  Looking over at her, he tracked her gaze and then, as a shiver of cold raced up his spine, he looked back over the water.
"Plenty of people don't.  Too bad he couldn't find a way to trap his dad and uncle in there, too."
Sybil murmured, "His uncle's brains splattered all over the chief's wall."
"He went too easy."
"True.  But he is still gone."  Her gaze came over to him.  "We fell asleep on you.  What did you think about the movie?"
He frowned, tried to remember something about it.  The boy. Wands.  A rock.  Then he shrugged. "What sort of name is Snape?"
Sybil laughed.  "An interesting one.  For an interesting character.  Is he a good guy or a bad guy?"
The question caught him off guard.  Then he looked down.  "What does it matter?"
"Well, if you want to watch more of the series with us, it would be kind of fun for me to know now, what you think of him.  He plays a big part in it."
I'm not watching more.  That was what he should tell her.  Sighing, he looked away.  Everything he should do, he couldn't do.  It had been like that for most of his life.  He should found a better way to make people listen.  He should have fought harder.  He should have run sooner.
Then there were the things he shouldn't have done. He shouldn't have involved Lana.  He shouldn't have stayed in town. He shouldn't have reached for Sybil that first night.
A hand reached up, touched his cheek.  "You're always so serious, baby."
"Little reason to be otherwise."
"True."  She moved then and he didn't even have time to brace himself before she had settled herself in his lap, one leg planted on either side of his hips.  Her hands came up, cupped his face.  "How much longer until you decide to tell me?"
His hands moved of their own volition, fingers splayed wide across satiny soft thighs.  "Tell you what, Sybil?"
"Don't play games with me." She dipped her head so that her hair fell around them like a curtain.  "You've never done it before.  Don't start now."
Noise clamored in the back of his head, all that chaos rising to a roar as he stared into those beautiful eyes.  They slid between gold and green and right now, they all but glowed as she watched him.
Send her away.  Tell her.
He slid his hands up, cupping her ass. And he groaned when he found her naked under that sorry excuse for a skirt.  "I keep thinking it's time to tell you to just go.  To stay away from me."
"That's what I thought."  She rubbed her mouth against his.  "Why don't you do it, then?  So I can ignore you and we can fight it out?"
The cool silk of her hair brushed against his cheek.  He tangled one hand in it.  "This isn't a game anymore."
"It never was."  She eased back, watching him with knowing eyes.
He curled his lip.  "It was one thing when you were fucking some guy you thought was an Amish builder.  It's another thing when it's me, possible murder suspect, sick degenerate.  It's just a matter of time before the cops decide to start pulling me, demanding answers about what happened the night I disappeared.  Just a matter of time before everything comes out in the open.  When nobody knew—"
She lifted a hand and pressed her finger to his lips.
"I always knew."
BN | Amazon | Indiebound | Book Depository | iBooks
Enter to win the Kindle Fire or Nook via the widget below.  As always, the standard disclaimer applies.
Pretty, pretty, pretty please… before you ask any Qs, including whether the contest is open internationally, please read the disclaimer.  That's why it's there. 🙂 The contest rules include a line that reads entering means you've read and agreed to the rules laid out, so you might wanna read those rules anyway, because what if Iinclude that entering means you promise me a picture of you riding a purple pony with your prize if you win? 😉 If you ask a Q and I don't answer it, it's likely because I addressed it in the standard disclaimer.
The winner will be posted to the widget as this contest may hit several blogs.  It's open for two weeks and the winner will have two weeks after that to claim the prize otherwise it's forfeit.