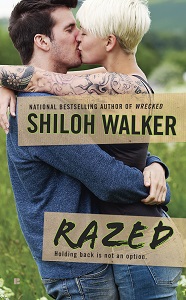 "I knew you were naked under this. I knew it."
"How?" She blushed even deeper as he cupped her breast and stroked his thumb across her nipple.
"Instinct." He flashed her a grin. "And it was driving me crazy."
The blouse caught around her waist as he turned, sat on the bed and guided her to kneel between his thighs. She was naked from the waist up. Leaning back, he let himself feast on the beauty of her, on the elegance of her tattoos scrolled up her arms, the way they swirled along her shoulders and down her upper chest to stop just above the slopes of her breasts.
He traced the lines of the rose that bloomed on her neck and pressed his mouth to it, male satisfaction rolling through him as she shuddered. He'd needed this, needed to feel her shaking as he touched her, needed to feel how much she wanted him. Was it as much as he wanted her? Could she ever want him that much?
He'd do his damnedest to make it happen, to brand himself on her as indelibly as those incredibly sexy tattoos.
More tattoos started along her sides and he tried to trace them only to get caught in the shirt. "Clearly, I didn't think this through." Easing her back, he stood up and grasped the shirt, pulling it upward. She lifted her arms to help him and he folded it, placed it on the table near the bed, before he went back to stroking his fingers along the tattoos, determined to memorize each and every line, every stroke, every curve, every swirl.
"You act like you haven't seen them before."
He looked up at her, smiling slowly. "The shower doesn't count. I didn't have my glasses, so I couldn't see everything. And you wouldn't let me play." He slid his finger along the vine that started under her left breast. "Now I'm going to play."
Indiebound | BN | BAMM | iBooks | Amazon