It's just a few more weeks…
Saved one of my copies for a giveaway here.  Want it?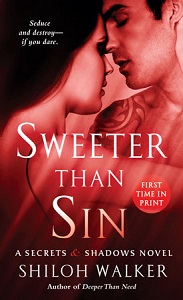 It could be said that Adam Brascum loved women.
It could be said.
But it would be off-target.  Adam didn't love women—he didn't hate them, but he didn't love them, either.  He needed them.
The soft curves, the scent of their skin, the husky voices as they whispered to him in the night.  If he worked it right, he could spent the night with any number of them, and he wouldn't have to be alone unless he wanted.
Wouldn't have to be alone, with just the voices in his head, the memory of a phone call, the memory of a smile, the memory of the girl he might have been able to save.
If only he'd done something.
Now, years after, when it was far too late, he was doing something.  Drowning his sorrows between the thighs of just about any woman who would have him.
There had been a time when he'd drown his sorrows with a woman, along with the help of his good friend, Captain Morgan, or maybe some Jack Daniels, but that had all stopped on a cold wintry day.  He could still remember the soft, sad words spoken in his ear and at the foot of a grave, he'd made a promise.
He didn't make them often, but when he did, he kept them.
So the booze was gone.
His only vice now was women.
Lately, though, that vice wasn't doing it for him anymore.
He didn't even know the name of the woman in bed next to him.  She was beautiful, a long, sleek woman maybe ten years older than him and she had left him feeling like she could put him through his paces for the rest of the night.  He'd slept maybe thirty minutes, her neck tucked against his chest, her hand resting on his stomach.
And then the nightmare hit.
He was standing in front of the house.
Just standing there.
It was dark.
It was cold.
The dimly lit windows mocked him.  If he moved any closer, the lights would go out, and he'd find nothing.
But he could hear her.  Her voice, whispering his name…
To enter, just tell me that last romantic suspense you read.  🙂  I'm always looking for good ones.
Contest open through the end of the week!  Standard disclaimer applies. Entering means you've read it and agreed, including the part where the winner is posted here and must check back to claim the prize within two weeks!