Sweeter than Sin is due out next week.
I'm doing another FB party…if you're on FB, you can join us. We're giving stuff away and having fun. 🙂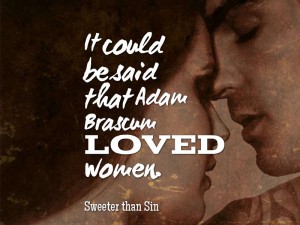 It could be said that Adam Brascum loved women.
It could be said.
But it would be off-target.  Adam didn't love women—he didn't hate them, but he didn't love them, either.  He needed them.
The soft curves, the scent of their skin, the husky voices as they whispered to him in the night.  If he worked it right, he could spent the night with any number of them, and he wouldn't have to be alone unless he wanted.
Wouldn't have to be alone, with just the voices in his head, the memory of a phone call, the memory of a smile, the memory of the girl he might have been able to save.
If only he'd done something.
Now, years after, when it was far too late, he was doing something.  Drowning his sorrows between the thighs of just about any woman who would have him.
There had been a time when he'd drown his sorrows with a woman, along with the help of his good friend, Captain Morgan, or maybe some Jack Daniels, but that had all stopped on a cold wintry day.  He could still remember the soft, sad words spoken in his ear and at the foot of a grave, he'd made a promise.
He didn't make them often, but when he did, he kept them.
So the booze was gone.
His only vice now was women.
Lately, though, that vice wasn't doing it for him anymore.
He didn't even know the name of the woman in bed next to him.  She was beautiful, a long, sleek woman maybe ten years older than him and she had left him feeling like she could put him through his paces for the rest of the night.  He'd slept maybe thirty minutes, her neck tucked against his chest, her hand resting on his stomach.
And then the nightmare hit.
He was standing in front of the house.
Just standing there.
It was dark.
It was cold.
The dimly lit windows mocked him.  If he moved any closer, the lights would go out, and he'd find nothing.
But he could hear her.  Her voice, whispering his name.
Adam…why didn't you help…
Why didn't you…
Why didn't you…
He came awake, choking back the oath.  He'd learned long ago that when he made noise, whatever partner he had in bed with him tended to ask questions.  Questions weren't the kind of thing he liked to entertain in bed, so he eventually figured out how to strangle the groans, the curses…even the screams.
After all these years, it was second nature.
Next to him, there was a long, soft sigh.  He froze, listened.
After years and years of slipping out of beds, he'd all but perfected it to an art and he could almost tell to the second when a woman was about to wake.
She shifted, rolled onto her belly.
Adam turned his head, stared at her in the dim light filtering in through the skylight.  Her face, all but lost in the darkness, was a clean oval, her skin a warm, rich brown, her lips sweet and full.  She had a wicked laugh and she'd looked at him like she had more than a few ideas about any secrets he might harbor.  She'd looked, and she hadn't cared.
I just divorced a son of a bitch who'd been cheating on me for eight years.  I knew, and I couldn't leave him.  Now I can.  She told him that, sitting across from him at the sports bar he owned, staring at him with clear eyes.  This is how I burn those bridges.
He'd lifted an eyebrow at her.   Just how do you burn them, Jez?
He was the only man I ever shared my bed with and I plan on changing that damn fast.  I'm almost fifty years old and I don't want the only man I've slept with to be a lying, cheating son of a bitch.
He was a son of a bitch, but he couldn't be called a cheater.  He'd never married, never even had a serious relationship. Again, it went back to promises.  If you didn't make them, you didn't have to worry about breaking them.
I might be a son of a bitch, but I'm clear on the rest of it.
She'd smiled at him.
They'd ended up in her room at the B&B, not the big one in town, but a smaller, quieter one out near the river and she'd all but turned him inside out.  A hungry woman, a hot woman…that should have left him too burned out to dream.
But here he was, on the edges of a desolate nightmare.
While Jez slept on.
He leaned in, brushed her cheek with his lips.  "Find somebody who'll do more than just share your bed, Jez," he murmured.
She made a grumbling sound under her breath and then sighed, a faint smile curving her wicked, delicious mouth.
Then she shoved her face into the pillow.
He was gone in less than three minutes.
But he didn't go home.
Amazon | BN | IndieBound | Book Depository | iBooks