Giving away a signed copy…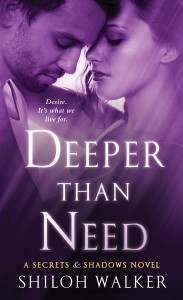 Even before he left the alley, he saw her.
The bright banner of her hair was still pulled up and back, restrained in a neat little twist. Earlier, he'd wanted to figure out how to take it down, see all that gold fall down around her shoulders; then he wanted to fist his hands in it and take her mouth, see what she'd do just before he kissed her . . . something he was starting to think he'd really have to do before much longer.
It was a thought he had no business thinking just then, he knew, not when a guy he'd known most of his life lay dead, not when a man he called one of his friends sat just across the street, staring out at the world like he had absolutely no idea where he was, who he was.
Trinity had no idea Noah was there, still gripping the phone. He stood there, mesmerized, unable to look away. "Noah, are you there?" she asked, her voice soft. Soft and steady, but it broke the spell.
Tearing his eyes away, he shifted his attention and looked around until he found Hank. "I'm here. I'm just across the street. I'll be there in a minute. Go ahead and hang up, angel."
It slipped out of him without him realizing it until he'd already disconnected. But there was no taking it back. Her head turned, and across the street their gazes locked and connected.
It was the sort of connection that just went all the way through him, too, and he could tell just by looking at her that she felt it, too. He felt it echo through him, from his head down to the soles of his feet, and every inch in between, centering square in his chest…and a little lower as the blood settled low in his groin and started to pulse, hot and heavy.
The air in his lungs felt superheated. The air around him felt charged.
All from a look.
What would happen if he went to her then? he wondered. If he touched her then. If he… what …what would he do? It had been twenty years since he'd even wanted to feel some sort of connection, and back then it had been easy.
Everything with Lana had been easy. He'd been young and stupid and naïve…and in love. Life had been simple then, and now it was anything but. Then, he hadn't had any idea what it was to hurt.
Things with Trinity would be anything but easy. He was older, more tired, and even though the feelings he had for her were spiraling far out of control, and fast, life was not even close to simple and he'd spent too much time knowing nothing but hurt. Loneliness.
But he still couldn't cut her out of his mind. Somehow, she'd worked herself into the very fabric of his soul.
Read more
Giving away a copy…want it?  Just leave a comment.  If you wanna make the comment more interesting for me to read, tell me what you're doing this summer, although yes, ENTER ME is fine. 😉
Open across the planet.  Please read the disclaimer.  Entering means you agree to the disclaimer.  Open through the end of the week.  Winner posted next week (Week of June 30)