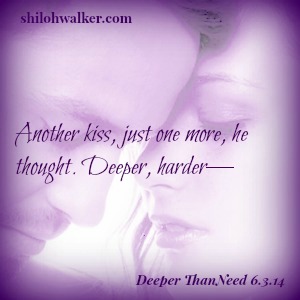 "You try and take it easy if you can," she murmured. "You look like you're having a rough one there, Noah."
A rough one . . . maybe that was why he did it. Reaching up, he touched his fingers to her cheek when she went to pull away.
She stilled.
The voice of reason, rational thinking, restraint . . . the voice Noah expected to hear whispering to him from the back of his mind was silent as he leaned in and pressed his lips to hers.
Just a light, easy kiss. Almost impersonal. Impersonal . . . if anything could be impersonal when a man had spent so many nights dreaming about a woman. If anything could be impersonal when the heat of her skin reached out to tease him, even though inches separated them and the scent of her, sweet woman and lavender, rose up to taunt him. If anything could be impersonal when her lips parted on a gasp and he caught the first hint of her taste.
If anything could be impersonal when he lifted his head and saw her staring up at him, her gaze smoldering, smoking, as if it held all the heat of the sun. It was almost too much and he had to fight to keep from hauling her back against him.
Another kiss, just one more, he thought. Deeper, harder—
A car sped by and he heard Micah's voice bounce off the glass as the boy called for his mother, but the words made no sense.
Trinity licked her lips, her lids drooping down to shield her lashes.
Aw, now that wasn't helping at all. "It just got a little bit better," he murmured, stroking his thumb over the path her tongue had taken.
She eased back, a slow blush rising up to stain her cheeks pink. But she didn't look away.
"Should I apologize?" he asked.
She reached up and closed her hand around his wrist. "I'm hoping you won't. If you do, my day is probably going to take a turn for the worse."