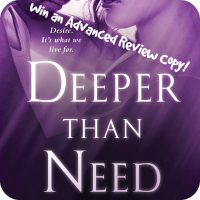 I have one ARC left, set aside for a blog contest and it's time to give that ARC away.
Time heals all wounds

Eager to put a dark, troubled past behind her, Trinity Ewing buys an old house that will make the perfect refuge for her and her young son once renovations are complete. The last thing on her mind is finding someone new…but the contractor she's hired is an irresistible distraction—and Trinity can't help but fantasize about all the business they could be doing behind closed doors.

So does one man's touch

Noah Benningfield thought he'd put his demons behind him. But the moment he lays eyes on Trinity, the temptation he feels is too powerful to deny. Soon the attraction between them explodes into something neither of them could have imagined. But their desire will be put to the test when a shocking local murder has them dodging danger at every turn. Can the beautiful and damaged Trinity trust someone like Noah, whose own past is as haunted as her own? The only thing she knows for sure is that she can't live without a man who makes her feel this good—over and over again…
Noah couldn't help it.  While she was still laughing at him, he closed his mouth over hers.  The need that had tormented him for so long threatened to drive him insane and all he wanted was to lose himself in her.
Spreading his hand out over the small of her back, he fisted the other in the golden silk of her hair as her laughter faded away and her mouth opened for him.
There was hunger here…and need.
It would be easy, he realized.
Too easy to get lost in her. In the sweetness of her kiss, the warm strength of her body.
She was lean and limber against him, all those curves pressed tight to his.  He had to fight the urge to let his hands roam over all her, to learn every single inch, to learn her by touch, by sight, by taste. His cock pulsed against her belly and she kept moving against him.  He had an overwhelming need to pin her against the nearest flat surface and just rock against her until he exploded.
Her chest moved in ragged, uneasy bursts against his own.  The soft, sweet curve of her breasts pressed against him as she leaned in, wrapping her arms around his neck. The tight, hard points of her nipples scrapped against him and he thought he was going to go out of his mind.  A whole new sort of temptation—one he hadn't had to deal with before.  Not like this. Never like this, because he was pretty certain he hadn't ever wanted like this…
All because of a kiss.
Her tongue moved against his, stroking along the curve of his lip before venturing into his mouth and Noah felt the muscles in his legs start to tremble. On a ragged breath, he tore away from her and pressed his brow to hers.
"So.  Again…I think I've made my case pretty clear.  A date isn't a bad idea.  Does tomorrow at eight work for you?"
Enter via the widget.  Open for the next week.  Winner's name will be posted by the end of next week and you have to check back to see if you've won.