UTA: 4/5/2014.  Contest is closed to entries at this time.  Winner to be posted on 4/6. Thank you!
With the madness of getting ready for Scotland and other assorted madness, I had no time to prepare the whirlwind sorta blog parties that I try to do with my big releases.
So…let's try a last minute release day party.
I'll bring the door prizes.

You bring a date and something else…munchies or drinks or both.  (I'm partial to buffalo wings.)
FIRST!  Pick out your date… there's a bit of a twist here, though.  The date has to come from the Secrets & Shadows series.   Here's my story board…
Me?  I kinda liked Dean, Noah & Caine… since I'm hosting the party, I guess I oughta bring something…I'll order in some pizza and there are two bottles of rum, plus some coke and diet coke. I have some scotch I got in Scotland, but that's mine.  And I'm greedy.
(It's gotta be easy…I've got to finish getting things together!)
Things…like this?
Everybody who comes to the party…(meaning you bring a date and a 'cyber' offering of food or drink) gets their name entered to win an ebook reader…either a Kindle Paperwhite, a Kobo Touch or a Nook Glowlight.
One party goer will win an ebook reader. All you have to do to enter is drop your name in comments below and tell me which of the characters from the series you want to bring as a date, and then tell me what you're bringing to the party.  Food, drinks… (if it's a drink and you wanna leave the recipe, that's awesome!)
This party will last all week, so be prepared. 😉
A quick look at today's release!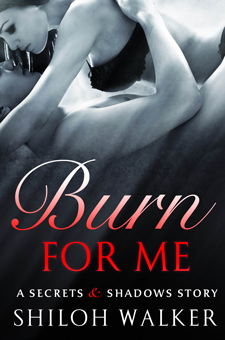 Scarred long ago by the disappearance of his mother, Nichole, Tate Bell aches to spend his days and nights with Ali Holmes, a woman he's loved for years. But while Ali's heart pines to be with Tate, her head has reservations… Ali knows that Tate has never forgiven his father for the fight he had with Nichole right before she left the house—and was never heard from again. Ali thinks that Tate's unresolved anger is a force to be reckoned with…even though the heat that blazes between them is undeniable. Now both Tate and Ali are left to wonder: Can love really conquer all?
~*~
I'm not going to cry because it's over.
I'm not going to cry because it's over.
I'm not going to cry—
She hiccupped as a sob broke free.
Bringing her knees to her chest, she buried her face against them.
Lost in the hurt, she didn't hear his footsteps.  It wasn't until he closed his hands around her ankles that she even realized she wasn't alone.
Jerking her head up, she stared into Tate's gaze.  His eyes, so dark they were nearly black, bore into hers.
"Tate . . ."
He tugged her legs down and she curled her hands around the edge of the porch swing, her heart slamming against her ribs.  He went to lean in and she lifted a hand, pressed it to his chest.
"Don't." Her voice cracked. "I'm not . . . we can't do this anymore.  I can't do this anymore."
He didn't seem to realize she'd even spoken as he reached up and closed one hand around her wrist, his thumb stroking against her inner wrist as she continued to press against his chest.  "Ali . . ."
His heart slammed against her palm and his shirt, soaked by the rain, was no barrier between them.  She felt the scalding heat of his skin.  Drops of rain clung to his hair and as she stared into his eyes, one of the drops fell, caught on his cheekbone, and rolled down.  It hit her wrist and she was surprised it didn't sizzle, as hot as she suddenly felt.
It was a heat that echoed deep inside her, down low in her belly and every beat of her heart sent that heat pulsing through her until she thought she might explode.
The seconds drew out and she took a slow, deep breath.  His gaze dropped to her mouth and she had to bite back a moan.
"Tate, stop," she whispered, forcing the words out. That hunger continued to pang inside her, making her skin feel tight, hot.  She had to curl her fingers into a fist to keep from reaching for him.  "I'm tired of only having part of you.  I told you.  It's all or nothing and you won't give me everything—"
He lifted her hand to his mouth, pressed a kiss to her inner wrist.  That gentle caress sent shivers racing through her.  Blood started to roar in her ears, so loud it took her a minute to realize he had started to speak.
Look for stories from the other Bell siblings in late April and early May.
Amazon | BN | Kobo | iBooks | Google Play
Quick rundown on rules, because it's a contest and that means I have to have them.
Open worldwide, but you're responsible for requesting the device that will be 
functional
in your place of residence…not me.
As this is supposed to be fun, please don't just…
enter me
to win…go along with the way the contest is set up…yanno, pick a date, bring a 'cyber' food or drink…
You must be eighteen or the age of majority in your country of residence to enter.
The winner's name will be posted to my blog next week.  Please check back to see if you've won. You'll have two weeks to claim the prize.  If you fail to claim the prize, it's void.  A new name will not be re-drawn, per my contest rules.  For the rest of the rules, please see my disclaimer.
FYI
…
ENTERING 
the contest means you've read and agreed to the rules laid out in the disclaimer.
Full disclosure… I kinda got the idea from Barbara Vey and her awesome parties that she's done over the years.