In a moment of shocking glee, I saw that WRECKED made it into the DABWAHA… (say it three times fast, I dare you…)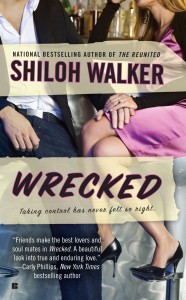 It's the annual tournament of bitchery and bad-ass books created by Smart Bitches and Dear Author and WRECKED is one of the contemporary nominees.  I'm dying of delight over here.
Here… a snippet from the book…and actually, this entire scene is pretty much where the entire book came from. This scene was in my head within minutes of getting the idea.
"Have you ever been in love?"
In the middle of gathering up his supplies, he paused. Zach closed his eyes and started to mouth every single foul, nasty curse he could think of. He had four brothers. He could think of a lot of cuss words. Halfway through one that involved anatomical improbabilities and a goat, a hand touched his shoulder.
"Zach?"
Damn it, he couldn't do this. Moving away, he started grabbing his supplies at random. Dumping trash, slamming the tools here, there. Being fucking careless with them, but he couldn't look at her yet. If he did, she might see—
He went to dump the trash and turned around.
Abby was right there, dark brown eyes locked on his face, her shirt still knotted just under her breasts, leaving her belly bare.
"What is this?" she teased. "You make me play twenty questions all the time."
Edging around her, he focused on cleaning up. "I'm thirty-two years old, Abby. Yeah. I've been in love," he said, keeping his voice flat and his eyes on the task at hand. "It didn't work out."
"Why not?"
"She never seemed to notice that I was staring at her when she walked into the room."  Eventually, he had to stop staring, because other people did notice . . . and then she started dating Roger, got engaged. She wasn't his and he spent night after endless night wondering about all the chances he might have had.
Was he going to let that happen again?
Had fate dropped one more chance into his lap?
Amazon | Book Depository | BN | BAMM | Indiebound | iBooks
And…
Since I'm so delighted, I'm gonna share the blurb for book 2.
Originally book 2 was titled SHATTERED…With more than a little dismay, I was told it was probably best we change it because there are more than a few SHATTEREDs out there and…well, okay.  Yeah, I'd rather have a title that stands out more, so after sulking, brooding and then emailing my favorite guru to bounce ideas around…
RAZED…
Tattoo artist Keelie Jessup can handle that someone else has claimed the man of her dreams. She's just not pleased with her remaining options…
Keelie doesn't believe in the "perfect man." But the men who are worth the trouble are usually taken—like her business partner Zach Barnes. After a string of bad luck and the lost chance with Zach, Keelie decides that maybe flying solo—and living with suppressed desires—is the key to happiness.
As a photographer, Zane Barnes has an eye for the human form, and his eyes can't get enough of Keelie's curves. Unfortunately, Keelie is like most women—always fawning over his little brother, Zach. Zane is about ready to give up, but then a few stolen moments at his brother's wedding have him thinking maybe there's a chance there after all. Now he just has to prove that the perfect man does exist…for her.
Release date, cover, more info…all that jazz coming at a later date…