So, it's DABWAHA time!
I have a book in there!  Lookit! WRECKED made it into the finals…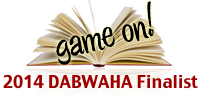 read more on WRECKED
"Friends make the best lovers and soul mates in WRECKED. A beautiful look into true and enduring love…" Carly Phillips, NYT Bestselling Author
In the nineties, Abigale Applegate and Zach Barnes were the most beloved sitcom child stars in the world. Then they grew up and left Hollywood behind…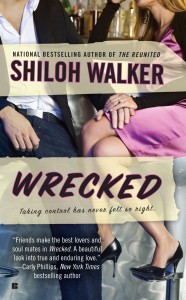 Whatever happened to Abigale Applegate?
She's been wondering the same thing.
With her Hollywood dreams long gone, Abigale now has a nice, neat, uncomplicated life—until the day her perfect fiancé needs to talk. Dumped, a little more than shattered, and totally confused, Abigale turns to Zach, her best friend since forever, to help her pick up the pieces. He does it with a gift—a copy of Wreck This Journal. She can vent her frustrations, and sketch out a new plan. Zach just hopes he's part of it. Because he's been in love with Abigale his entire life.
When the journal falls into Zach's hands, he discovers Abigale wants a new man. And fast. Nothing more than a hot distraction. Zach has a strategy, too. He's going to be that man. It's his last chance. Abigale might be out to shake up her life, but Zach's out to reinvent it. Now, all he has to do is convince Abigale that life can go as planned.
So, in the DABWAHA (pronounced dah-BWAH-ha-an important fact according to Smart Bitches & Dear Author) way of things…trash talking, bribes and sexy menz are part of the game.
I offer my first bribe… A scene from RAZED.  RAZED is the second Barnes brothers book, featuring Zane & Keelie, but this scene is Zach & Abby…at their wedding.
Zach came up behind Abby and pressed his lips to her brow.  "Can we leave yet?  Can we leave yet?"
Abby turned her face to his.  "You're awful.  You just asked that ten minutes ago."
"I meant it just as much then as I do now."  He cupped her face, stroked his thumb over her lips.  "You look beautiful."
A dreamy smile curved her lips.
"You two are killing me."
Keelie glanced up at Javi settled in the seat next to her, his wife taking the other seat.   "Javi, be nice," Aida warned, her eyes dancing with humor in her round, friendly face.  She smacked her husband in the arm before propping her elbow on the table and resting her chin on her palm.  "The two of them are adorable."
Keelie slid Zach and Abby a look.  "Adorable sums it up."
At that moment, Abby gave them an amused look.  "If you keep calling Zach adorable, he's going to find somebody to arm wrestle just to prove his manhood."
"I don't need to prove my manhood." He pressed his face to her neck and then groaned as Abby pushed him back.  "Can we leave now? Can we leave now?"
"Hush!" Abby said, but there was laughter lurking under the words.  "This is my wedding and I'm going to enjoy it."
Zach leaned in, murmured something to Abby that had her face going red.
If you give me votes and help get me through to the next round when it starts next week?  I'll offer another snippet, or maybe write a scene, just the two of them.
Come on…Zach is asking real nice…
Image via Mateus Verdelho's FB Page