Those who celebrate, I hope your Christmas was lovely.
The guy surprised me with these…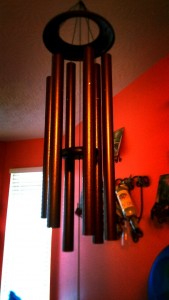 Corinthian Bells – windchimes I've wanted forever, but wouldn't ever buy myself.  They make the most beautiful music you can imagine.  I love them.
The kids didn't get as much this year.  They are fine with that.  They were warned. Because since summer, I've been taunting them.
You see, the guy and I have talked forever about a really big trip.  Something for all of us but we never got around to it.  We're running out of time, too.  Bratlet is a freshman in high school.  In a few years, she'll be off at college, and not long after, so will Monster.
We figured if we're going to do it, we need to make it happen now.
They've gotten little hints.
The place has mountains.
We have never been there (we as a family, make of that what you will)
There are lots of lakes.
There is a famous cryptid the place is known for.
They've guessed a lot of places…there's Bigfoot in the Pacific Northwest.  They guessed the Jersey Devil, but the mountains kinda threw them off.  They thought of Scotland, cuz…ya know, Nessie, but Bratlet wrote that idea off because that's out of the country and way too expensive.
Well, she was kinda right and kinda wrong.  It is way too expensive but we figured if we're going to do it, we need to get it done.
In March, we're going to Scotland.  The cool news is…I can call it research… *G*
We'll be in the Highlands and yes, we plan on going to Loch Ness.
I can't wait.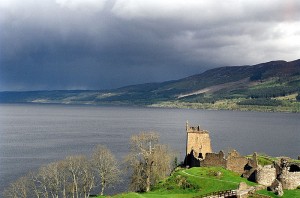 Image from Wiki Commons
In other news… there's a contest for an ARC of Broken Blade at the JC Blog