Gus…like I said, he's a sexy, sexy bastard.  I really loved this son of a bitch.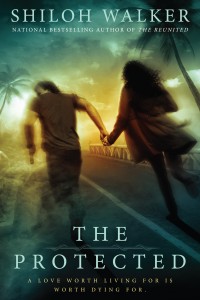 She was going to miss him.
Every day for the rest of her life. It shouldn't happen like this. Damn it to hell, it shouldn't happen like this. If she was going to fall for a guy, why couldn't she have fallen for one she could keep?
She rolled onto her side and watched him climb out of the bed and her heart skipped a beat. Wistful, she bit back a sigh. Then again, she was being stupid. She had absolutely no desire to undo a minute with him. Maybe she couldn't keep him, but the days she'd spent with him burned brighter on her memory than any other she could recall.
If she had to settle for something vivid like this that would end in heartache, or something just . . . mediocre that she barely recalled a few months, a few years later? This was better, she thought. She hoped she could remember that later on down the road when she was cussing him out for leaving her.
He didn't speak as he dressed. She didn't bother saying anything. There was no point in trying to get him to change his mind. He'd already decided what he needed to do. He wasn't there looking to see if she wanted him even. If he'd shown any sign of that, then she'd be all over him, giving him all the reasons he needed to stay.
But he'd come with a purpose in mind.
So fine.
Let him go.
Swallowing around the knot in her throat, she told herself she could get through this. The first few days would be the worst, right? After her father had thrown her out, once she'd gotten through the first few weeks, the first month or so, she'd figured out how to get along and she'd been okay. This couldn't really be any worse than that.
In the dim light, he turned to face her after he'd pulled his shirt on, and she rolled onto her back as he came to sit on the side of the bed.
He reached up and touched her cheek. "Thank—"
"If you say thank you to me, I'm going to break your nose," she warned softly.
A faint smile danced across his face, there, then gone. "Do you really think I can leave without saying thank you for helping me with Alex?"
She sat up and leaned in until they were nose to nose. "Anything else and I'm punching you, Gus. I did my job. Period."
Amazon | BN | Kobo | iBooks | Indiebound | The Book Depository
Please note if you wish to get this book in print from your local store, you might want to make sure they pre-order it.  A lot of stores aren't carrying as many of my books in print.  Thank you!
Lauren Dane
Caris Roane
Eliza Gayle
Lissa Matthews
McKenna Jeffries
Taige Crenshaw
Delilah Devlin
HelenKay Dimon
Myla Jackson
Felicity Heaton
TJ Michaels