Yes!  Lynn Viehl's new book is out!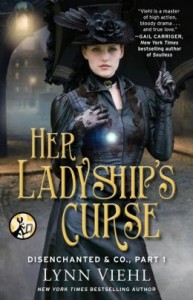 In a steampunk version of America that lost the Revolutionary War, Charmian (Kit) Kittredge makes her living investigating magic crimes and exposing the frauds behind them. While Kit tries to avoid the nobs of high society, as the proprietor of Disenchanted & Co. she follows mysteries wherever they lead.
Lady Diana Walsh calls on Kit to investigate and dispel the curse she believes responsible for carving hateful words into her own flesh as she sleeps. While Kit doesn't believe in magic herself, she can't refuse to help a woman subjected nightly to such vicious assaults. As Kit investigates the Walsh family, she becomes convinced that the attacks on Diana are part of a larger, more ominous plot—one that may involve the lady's obnoxious husband.
Sleuthing in the city of Rumsen is difficult enough, but soon Kit must also skirt the unwanted attentions of nefarious deathmage Lucien Dredmore and the unwelcome scrutiny of police Chief Inspector Thomas Doyle. Unwilling to surrender to either man's passion for her, Kit struggles to remain independent as she draws closer to the heart of the mystery. Yet as she learns the truth behind her ladyship's curse, Kit also uncovers a massive conspiracy that promises to ruin her life—and turn Rumsen into a s supernatural battleground from which no one will escape alive.
I'm a Lynn Viehl fiend.  I just bought this and I'm going to buy another copy…one for somebody else, to make another fiend.  Want it?  Just leave a comment and tell me whether or not you've read one of her books… as Lynn, as S.L Viehl, as Gena, Jessica, (she has many names…) O.O.
FYI, because of territory issues and the hassles I've previously had with with books not readily available in some countries, I'm restricting this contest to countries that have Amazon… if you're in the US, you're welcome to request BN. If you don't have Amazon, there are no substitutions and I can't send you a file or print book, so please don't enter. At some point, itunes will hopefully make it as easy to gift a book as Amazon does, but it hasn't happened yet that I can tell, so we're going with Amazon.
It looks like it's available in US, Spain, Canada, the UK, France, Italy, Germany, Japan, so if you're in those countries, have at it! If not, I do apologize, but territory issues are something I have no control over and neither does the author.
Please read the disclaimer...winner will be posted later this week and you have to check back to see if you've won.  I don't email my winners.