Okay, so this is a contest post.
Win a copy of Deadly Desires… or a GC.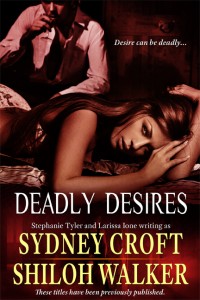 Worlds collide as three bestselling authors deliver two tales of danger, suspense, and steamy encounters.

Don't Walk Away
by Shiloh Walker
Ten years ago, former Army Ranger Ethan Raintree made one hell of choice…keep on lying, or tell the woman he loved the truth. He decided to tell the truth, and she threw him out of her life. He never stopped loving her, not stopped wanting her. Celeste Harper finally had everything she wanted—or so she thought. She'd escaped her past. She'd escaped her demons. But she couldn't escape herself…or the man she'd left behind all those years ago. Looking into his eyes ten years later, she realizes it's her turn to make a choice—let go of that pain and take him back. Or walk away…and face a future without him.
Code Word: Storm
by Sydney Croft
The extremely secret Agency for Covert Rare Operatives is the only thing that stands between the human race and complete chaos. Now, two agents with special abilities, Annika Svenson and Creed McCabe, are sent to stop a man who has harnessed the power of the supernatural world. But Creed and Annika have a history that puts them at odds — and in closer, hotter contact than they'd like. In this ACRO story, which falls in the series timeline between Riding the Storm and Unleashing the Storm, Annika and Creed grow closer, despite their resistance. And with their lives are on the line, they find they must not only work together, but be together, or risk a terrifying fate that could consume them both…
Amazon | BN  | ARe | Smashwords
These two short stories contain hot guys, determined women and some sexiness. Please note…they have been previously published, but we did add some new material.
Sighing, she lifted a hand to the curtains fluttering the breeze, brushing them out of the way as she stared outside. She couldn't see much of anything but the pale yellow circles cast by the weak streetlights. Their light didn't do anything to lessen the gloom of the sidewalks and beyond. And although she couldn't see him, she knew he was out there.
She knew he waited. Knew he watched her.
It was disconcerting as hell to realize that.
Easing the curtains aside, she slipped through the French doors onto the small balcony and stared down into the street. The Belle Inn was the only moderately profitable business in town. It catered to those who enjoyed spending the night in older hotels that had a history of being haunted. With the restaurant and bar attached, it managed to do a decent enough business. She stayed here every year—and hadn't seen a single ghost.
The Inn had been redone period-style. The room she stayed in probably looked as it had back in the 1800s, with the exception of the air-conditioning and indoor plumbing.
Resting her hands on the painted wood railing of the balcony, she looked for him and tried to pretend she wasn't. But she knew she was wasting her time. If he didn't want to be seen, he wouldn't.
Ethan.
He was out there.
Why?
She'd made herself clear, right?
I don't want ever want to see you again. Nice, short, to the point.
Except she did want to see him. Man, she'd missed him. So much. Not just the physical stuff, although she'd definitely missed that. She missed him. Missed that slow, almost reluctant smile of his. Missed the way he could sit there and listen to her as though every word she said was somehow vastly important. Missed his easy strength and the way he'd made her laugh with that wry humor.
She missed feeling his arms around her at night, although they'd had precious few nights together.
She just plain and simple missed him…
Enter the contest via the widget. 🙂