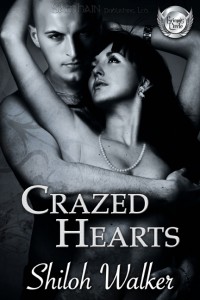 It's one of those… it's decision time…points in my career.
Writing is full of them.  Many of these decisions suck.  The ones I'm making right now aren't fun, but they have to be made.
Namely… about Grimm & the FBI books.
I'm probably going to be putting the Grimm series to bed.  When I have time in my schedule, I'll write Will & Mandy's story, but that's probably going to be it.
The FBI series may be either over, or pushed to the side for the foreseeable future.
The Grimm series, as much as I love it, and I do love it… I have more fun with that series than any other one out there, save for the Kit books, but the books barely scrape by.  For some reason, it's just never caught on well.
The FBI books are just slowly going…pffft.  I may not be shelving that one yet.  I'll see how things go with the releases of The Unwanted and The Protected, but The Reunited and The Departed, two of the better books I've written just didn't do all that well.  When you put your heart and soul into a book and the sales just aren't there…sometimes it's a good idea to move onto while you can.
I know 'numbers' aren't a reader concern, but they have to be a concern for the writer.  As I've said when talking about the Hunters books…
In the end, I had to make a hard decision.  Writing can be full of them.  A writer's daily life is all about the words…but in our business lives, if we don't focus on something else…numbers and sales, we can end up being one of the writers who don't keep writing for a living.

Since I kind of like what I do, and since my family kind of needs me to keep working…well, in the end, I knew what the right decision was, even though it wasn't an easy one.
Does this mean I'm absolutely shelving these two series?
As far as the FBI books go?  Nah, not absolutely.  The Unwanted is a novella coming out from Samhain, an experiment of sorts.  It's going to have a lower price and maybe that will appeal more.  If it goes over well, maybe it will just work better in that format.  It will require those who like print to wait longer to get the books, and I'm sorry for that, but sometimes you have to make those hard choices. I'm a prolific writer, but that doesn't translate to high-selling.  It just means I write a lot.  People have heard of me, but hearing of me doesn't mean they've tried me and some of the series that just aren't catching on, well, it's coming down to decision time.  Either they catch on, or I let them go.
I've got a few options with the FBI books, so I want to try those out.  But I don't see that many options with the Grimm. I'm going to be honest, I'll probably wind that series up soon. If something wild and crazy hits me for Rob or Finn, I may write those later down the road, but I'm not counting on it.
Those who enjoy the series, if you want to help keep them going, the best thing you can do, as I discussed yesterday… word of mouth & reviews.  Those reviews key into that discoverability thing and without that discoverability factor, it makes it harder for people unfamiliar with my work to find my books on retailer sites, namely Amazon and BN.
I won't be making a hard and fast decision on the FBI books until I see how The Unwanted goes.  Maybe it will turn around.
Tomorrow…I have slightly better news.